At a Glance
Expert's Rating
Pros
Reasonable cost
Outstanding output
Wonderful to play with
Our Verdict
Dynamic Auto-Painter lets you effortlessly create stunning drawings and paintings based on photos.
Dynamic Auto-Painter ($50, free demo with watermarks) lets you take any photograph and turn it into a high-resolution painting that looks like it was drawn by hand. It is not a simple pixel mask or overlay filter: Rather, it uses real brush strokes based on the works of great artists to recreate any photograph as a painting, stroke by stroke.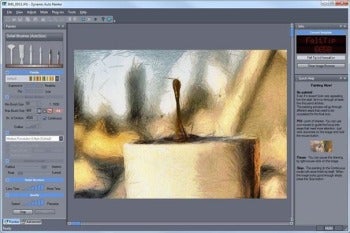 I love products like Corel Painter and ArtRage Studio Pro that let you draw your own natural-looking images using nothing but a computer and a mouse or a pen tablet. But as much as I enjoy painting, I am a much better photographer than I am a painter. Dynamic Auto-Painter lets me bridge that gap and present my photographs in ways I never thought I could.
The application ships with over twenty different painting presets, ranging from Aquarel to Chalk to Monet to "Wet-on-wet" paintings with subtle color gradients. The workflow is simple: Drop a photo into the app, pick the preset you like, and dial in your settings: How expressive or realistic you want the output to be, how dry or wet, what should be the brush sizes used, how faithful or impressionistic the output should be, etc. Now hit Start and watch your photo transform into a painting.
The process itself is fascinating to watch. When I first tried the program, I figured my processor was going to crunch some numbers and come up with a somewhat-transformed version of my photo that is supposed to resemble a painting. In other words, I had fairly low expectations. Imagine my surprise when my photo was removed from the canvas, and individual brush strokes began to appear one by one, rapidly building up the image from scratch. It was an eerie experience, almost like watching an invisible artist painting my photo in fast-forward.
Producing an image can take anywhere from a few minutes to an hour. If you've ever used a 3D design program such as Carrara, you've probably had to wait for a render to finish. Using Dynamic Auto-Painter is a similar experience, only it "renders" a hand-drawn painting instead of a 3D-looking polished image. One big difference is the continuous mode, in which Dynamic Auto-Painter continues rendering endlessly. You decide when to stop once you get the look you were after (sometime fewer brush strokes make for a more expressive painting).
For my first test, I picked the Aquarel preset and changed almost none of the settings. The results were surprisingly good–it really looked like a painting, even when I zoomed in on the 6-megapixel output image (the default output setting–Dynamic Auto-Painter can output images as large as 16 megapixels). At full resolution, the brush strokes become clearly visible and show organic grain and texture.
Because the application redraws the image from scratch rather than overlay individual pixels, you can feed it with a low-resolution image and get high-resolution output. I tried this with a 250-pixel image; results weren't as nice as when I used high-resolution input images, but even this tiny image yielded a beautiful (and clear) 2400-pixel painting.
Having over twenty presets, each with configurable settings, means you can coax an endless variety of art styles from Dynamic Auto-Painter. You can even combine presets: I created a painting using the WoodEtch filter, then left it on the canvas and painted over it with the Aquarel filter, and then painted over the result using yet another filter.
Using Dynamic Auto-Painter is not like drawing artwork from scratch, but it offers amazing results and great customization for very little effort. If you've ever wanted to see your photos through the eyes of a painter, Dynamic Auto-Painter is well worth the download.
–Erez Zukerman