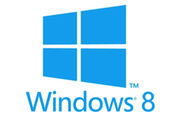 The Windows 8 Consumer Preview isn't the only new Microsoft download of interest to businesses. Also recently released was its Product Guide for Business, a 15-page PDF file that explores the most relevant Windows 8 features and technologies for businesses. Though littered with typos, the guide provides a well-organized overview of many previously introduced features, as well as details that weren't previously disclosed.
Here are five of the areas mentioned in Microsoft's guide likely to affect companies the most.
1. Windows To Go
Windows To Go allows businesses that develop their own custom Windows 8 deployment, often referred to as an "image", to install it on a bootable flash drive. The image can contain all of the apps and settings normally used on the desktops and laptops within the business. A remote worker can then use this drive to boot their home or other non-business-owned Windows 7 or 8-compatible PC and still access all work-related functions without endangering the safety of the business data.
2. Mobile Productivity
Windows 8 was designed with mobile devices in mind, and a number of features should make it more mobile-friendly. Beyond Windows To Go, features like Direct Access will allow businesses that use Windows 8 Server to create a VPN-like secure connection between the user's device and work resources, such as business apps and internal websites. Built-in support for mobile broadband are meant to make working over a 3G or 4G connection similar to using Wi-Fi.
3. Internet Explorer 10
Windows 8 includes Internet Explorer 10, which Microsoft refers to in two ways. "Internet Explorer" is the touch-based version of the browser that runs on the Metro interface, while "the desktop version of Internet Explorer" looks like IE9 and runs in the desktop interface. While most of the security, management, and performance features from past versions of IE are still available to both, the Metro version is "plug-in free". Business applications that rely on Active X controls, now described as "legacy", will only work in the desktop version.
4. Security
Windows 8 brings new features to help protect against malware and viruses. The new "Trusted boot process" uses Secure Boot to load antimalware early in the startup process to prevent rootkits from taking control. When installed on hardware with a Trusted Platform Module, the entire startup process can be "measured, signed and stored", and even evaluated by a remote service so the PC's integrity can be validated. While using a computer, AppLocker can control which apps a worker can run and which files those apps have access to, which can prevent malware from accessing private business data.
5. Management
Management and security features from Windows 7 are also available in Windows 8, though tools like Application Compatibility Toolkit and User State Migration Tool promise to make deploying Windows 8 faster and easier. Windows System Restore feature has been updated and renamed Refresh, and can restore a non-functional PC to working condition without losing a user's settings and data. A similar new feature called Reset will allow companies to wipe their data and apps from the machine, making it easier to repurpose, sell or surplus it.
There's still room to improve though: Microsoft revealed that although 32-bit and 64-bit tablets can be managed in the same way that desktop and laptops can, ARM-based tablets must be handled as stand-alone devices.
You'll find Microsoft's full Product Guide for Business (PDF) on its Explore Windows 8 page.

For more blogs, stories, photos, and video about Microsoft Windows 8, check out PCWorld's complete Windows 8 coverage.