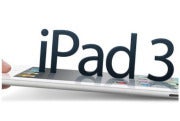 As the iPad-centric event on March 7 nears, DigiTimes claims Apple is looking to make a 7.85-inch iPad to compete with Amazon's Kindle Fire and the increasingly popular line of 7-inch tablets. Another separate report from the site says Apple is looking to introduce a cheaper 8GB version of the iPad 2 next week, which is more likely out of the two stories. Let's see if we can debunk these rumors.
With its typical secrecy, Apple invited the press next week to an event where it is expected to unveil a new iPad — presumably dubbed the iPad 3. The only spec you can probably put a bet in for the iPad 3 is a higher-resolution display, double the linear resolution, at 2048 by 1536 pixel. This is supported by a purported leak of the display for the new tablet, which we have seen on video. The rest is guesswork.
The myth of a smaller iPad
DigiTimes reports that makers in Apple's supply chain have started delivering samples of 7.85-inch iPads for verification, with volume production likely to begin in the third quarter of 2012 at the earliest. This is apparently to counter the increasing popularity of the Amazon Kindle Fire, but there are several arguments against this idea.
Apple doesn't need a Kindle Fire competitor. Apple sold 43.1 million iPads in 2011, according to the company's financial numbers. Amazon holds the number two tablet spot with 3.9 million Fire sales last year, which is not too bad, considering the likes of Samsung are openly admitting they are not faring well in the market.
The only problem with that is that Amazon is actually selling the $200 7-inch Fire at a loss, about $10 per unit, hoping to recover money through content sales on the tablet. Apple on the other had, is making hundreds of dollars from each iPad sold, so it's unlikely Apple will try to sell a smaller iPad in a similar fashion, or at a small profit margin. That's besides Steve Jobs' very public outing of his dislike for 7-inch tablets.
What Apple is likely to do in order to sell a cheaper iPad is perhaps look at its iPhone lineup. Speculation of a small-screen budget iPhone is always a hot topic before each iPhone launch, but instead of making a smaller, cheaper device, Apple always opted to reduce the storage on the previous model and sell it a discount: The iPhone 4 is now $99, replaced by the iPhone 4S at the $199 price point, and the 3GS is free with a two-year contract.
This is where DigiTimes' second report rings true: an 8GB iPad 2 to go along with the iPad 3. This would allow Apple to sell a cheaper tablet alongside the brand new iPad 3. Now, you could argue that 8GB on an iPad is not a lot of space; you could quickly find you are out of space, as many apps and games for the tablet are quite sizeable. If the 8GB iPad 2 becomes reality, it's likely that it won't have a 4G version either, leaving this for its newer sibling.
Follow Daniel Ionescu and Today @ PCWorld on Twitter