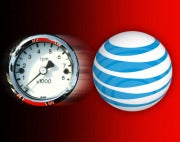 AT&T started throttling its heaviest unlimited data users last October, but is only now explaining who gets throttled and when.
AT&T has posted an info page with details on its throttling policy. "Throttling" a data plan is when a carrier promises unlimited (or a large amount) of data, but starts slowing users down when they approach a soft limit–data is still technically "unlimited," but it's no longer happening at premium speeds. Throttling continues until the next billing cycle.
According to AT&T's info page, throttling occurs after 3GB of data for users who have 3G and 4G HSPA+ networks, and after 5GB of data for users who have 4G LTE phones. Note that this only occurs for users who have been grandfathered in on unlimited plans–it does not occur for users who have tiered plans.
Earlier this month, some users reported soft limits of 2GB. It appears that AT&T has raised the limit to 3GB, keeping in step with the company's new tiered data plans.
The only way to avoid being throttled is to switch to a tiered plan. AT&T's 3GB costs $30/month–the same as AT&T's old unlimited plan–but users pay $10 per GB in overage charges, instead of hitting a speed limit.
Previously, AT&T said that only the "top 5 percent of heaviest data users" would have to worry about throttling, and refused to confirm how much data would be allowed before throttling kicked in. But, as users started noticing slower speeds, AT&T faced a backlash. One subscriber in California even sued the company and won (AT&T will appeal the ruling).
Compared to rival Verizon Wireless, which starts throttling unlimited data users at just 2GB per month, AT&T now offers more full-speed data for users with 3G and 4G HSPA+ phones. However, Verizon only slows down users when the network is congested.
"This could mean a matter of seconds or hours, depending on your location and time of day," Verizon's Website says. AT&T throttles all users once they've hit their limit, regardless of network conditions. Also, Verizon does not currently throttle 4G LTE users, though the company reserves the right to do so in the future.
Not that the comparison does any good for new users. Both AT&T and Verizon no longer offer unlimited plans for new subscribers, so once you give it up, it's gone for good.
Follow Jared on Twitter, Facebook or Google+ for even more tech news and commentary.