Recently I've been downloading some audiobooks in MP3 format. I wanted to import them into iTunes for listening on the go, but there's one problem: iTunes (and, more importantly, my iPhone) can't bookmark an MP3 file. Thus, in between listening sessions, it'll be difficult for me to resume my book from where I left off.
iTunes can, however, bookmark its own audiobook files. So if I convert my MP3s to Apple's AAC format, then change the file extension so iTunes thinks they're audiobooks, I'm good to go.
The first part is easy. In iTunes, just right-click the MP3 and choose Create AAC Version. That will eventually produce an audio file with an m4a extension. But I need to change that to m4b, the extension iTunes recognizes as an audiobook.
I had no problem finding the file in Windows Explorer–but the file extension was missing! Or, more accurately, hidden. That's the default setting in Windows nowadays, the idea being to keep you from monkeying with files and causing system problems.
This kind of monkeying, however, is harmless. I just needed to un-hide the extensions. Here's how:
1. In Windows 7 (and, I think, Vista), click Start, then type extension.
2. Click Show or hide file extensions.
3. In the Folder Options box that appears, clear the checkbox next to Hide extensions for known file types, then click OK.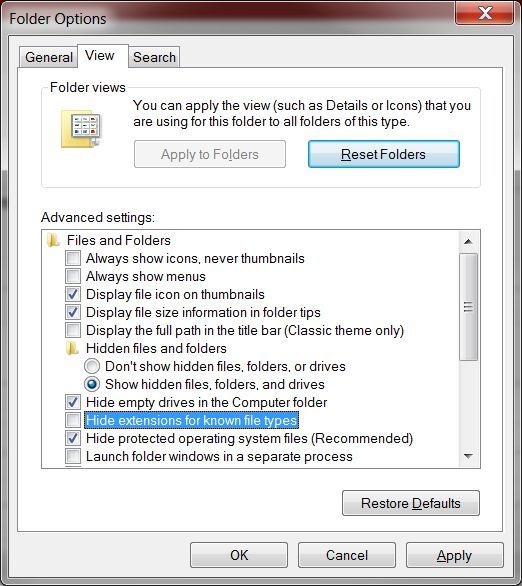 That's it! Now you should see extensions for most common files. And in my case, changing that audio file's extension was as easy as right-clicking it and choosing Rename.
If you want to hide the extensions again after you're done, just repeat the process and re-check the box mentioned in Step 3.
Contributing Editor Rick Broida writes about business and consumer technology. Ask for help with your PC hassles at hasslefree@pcworld.com, or try the treasure trove of helpful folks in the PC World Community Forums. Sign up to have the Hassle-Free PC newsletter e-mailed to you each week.