Most interface changes to new editions of Windows have been minor–an icon moved here, a toolbar added there. Windows 8 will be different, using a completely new Metro interface as the primary environment, and removing important elements like the Start menu from the older but still accessible "desktop" interface. Even IT pros may need to do some web searching to figure out some features. What questions will your workers have, and will you have the answers?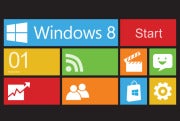 Windows 8, especially the Metro interface, was designed for touchscreens. Using a pointing device like a mouse or a touchpad is generally less intuitive and more difficult than using touch-based gestures. There are usually multiple ways to accomplish a task in Windows, so the ones mentioned below may not be the only alternatives. Also, this is a preview of Windows 8, features and the way they are accessed may change in the final release.
With all that in mind, here are answers to some of the basic questions workers will be asking their first day using Windows 8.
How Do I Log On?
Unless you're the one installing Windows 8, the first thing you're likely to see on a Windows 8 device is a scenic background with an overlaid clock. Similar to using CTR+ALT+DEL to access the logon screen in previous version of Windows, to expose the logon screen in Windows 8 either swipe (slide your finger across a touchscreen) or drag (click and move with a pointing device) the Lock screen upward.
Where Is the Start Menu?
The Start menu is gone, no longer a part of Windows. Instead, your starting point will be the Metro interface Start screen, comprised of smart "tiles" that act like desktop shortcuts and can contain all sorts of information related to a program, such as listing your latest email messages, upcoming calendar appointments, or incoming chats.
How Do I Get Back to Metro?
If you're in the desktop interface, either by choice or because you opened a desktop app, returning to the Start screen isn't intuitive. To get back to Metro, open the Charms Bar by either swiping in from the right edge of a touch screen or moving your pointer to the lower-right corner. From the vertical menu that appears select the Start icon which will take you to Metro's Start screen.
Where Are My Apps?
Some of your apps are shown as tiles on the Start screen. If you don't see what you need there, open the Charms Bar and select search. This will reveal an Apps screen that you can scroll or swipe through, or you can type within the search bar to see apps and other content related to your search.
How Do I Close My Apps?
In the desktop interface, closing apps is the same as in previous versions of Windows. You can choose Exit from the File menu, or use the Close button (red 'X' in the title bar). Metro apps don't need to be closed, as Windows 8 manages them in the background in a Suspended mode. If you do want to close one anyway, on a touchscreen device you can drag in and back out from the left edge of the screen to reveal a list of running apps, then drag the icon for the app you wish to close to the bottom of the screen. Or, with a pointing device, move to the lower left corner to reveal your last used app, then move your pointing device up the left edge of the screen to reveal a list of running apps. Right-click and choose Close on the desired app.
How Do I Shut Down or Restart?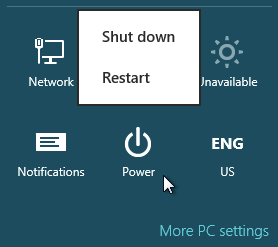 Windows 8 is designed to behave more like a smartphone or tablet than a PC, simply going to sleep when it's not being used. If you do want to shut down, or have a need to restart, open the Charms Bar, select Settings, and then the Power button, which will reveal the Shutdown and Restart commands.
Why Don't My Websites Work?
If you are using Internet Explorer in the Metro interface, it does not support plug-ins or toolbars. This will break some web features that rely on plug-ins such as ActiveX, Flash, or Silverlight. If you visit a website that requires plug-ins you will generally see a warning message, with an option to open the site in the desktop version of Internet Explorer, which still supports plug-ins and toolbars.
How Do I Open Web Pages in IE Desktop?
If you regularly use web apps that rely on plug-ins, you may wish to set the desktop version of Internet Explorer as your default. To do this, select the Desktop tile from the Start screen, then the Internet Explorer icon from the Taskbar. Use the Tools icon to reveal Internet Options. Go to the Program tab where you'll find a dropdown menu with the option to open links Always in Internet Explorer on the desktop. Also, check the box below the dropdown to Open Internet Explorer tiles on the desktop.
Have you downloaded Windows 8 Consumer Preview? Or do you have no interest in changing to a new version of Windows? Either way, we'd like to hear your opinion. Please take PCWorld's Windows 8 Survey. It'll take five minutes or less.
Joseph Fieber has 25 years of experience as an IT pro, with a background in computer consulting and software training. Follow him on Google+, Facebook, or Twitter, or contact him through his website, JosephFieber.com.