At a Glance
Expert's Rating
Pros
Group chat
Thin UI lets you pop out the client
Works with many different services
Cons
imo network is of questionable value
Our Verdict
Chat with contacts from various services using this free, Web-based IM client.
I've long been a fan of imo, the free Web-based chat service that lets you connect with your contacts from multiple services. That's why I was eager to check out the latest version, which adds a range of features. Some of them, such as the ability to create chat groups and a new, thin UI, which lets you pop windows out of your browser, are great. Others, such as the imo network, which allows you to connect with folks you might not otherwise known, are of more dubious value.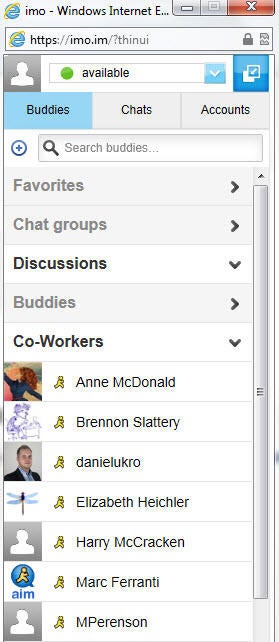 Like past versions, the latest iteration of imo still allows you to sign into multiple services–it supports AIM/ICQ, Facebook, Google Talk, Hyves, Jabber, MSN, MySpace, Skype, Steam, VKontakte, and Yahoo–simultaneously. Unfortunately, imo still doesn't let you merge contacts, so if you have the same contacts on multiple services, your contact list can become unwieldy, and fast.
But imo's chat features improve from there. The new group chat feature is nicely integrated and easy to use, allowing you to create and save groups of friends or colleagues for group chats. Imo sends the select contacts an invitation, and lets you choose which service to use when contacting them. Unfortunately, though, all of your contacts will need to switch over to imo to participate in the group chat. They can't do so from their messenger of choice. And, oddly, imo didn't seem to recognize contacts by name once I added them to a group: Instead, it identified them with a long string of numbers. While this only happened within the group view, it still made it difficult to know who was who. Imo says this is a known bug that will be fixed soon.
Imo's new thin UI, which allows you to pop out the application into a smaller, more manageable window, is by far my favorite feature in the latest upgrade. When imo is popped out, it looks more like a desktop product, such as AOL's AIM or Cerulean Studios' Trillian, which is a good thing. It allows you to keep your IM window small, so you can view contacts and messages while still surfing the Web or working on a document or spreadsheet.
I have less regard for the new imo network, which the company says is "a real-time sharing and discussion network that connects you to new people around the world." The obvious risks of meeting new people online aside, I'm not sold on the network's usefulness, and am sure that it does not merit the amount of real estate it occupies on your imo homepage. By default (though you can change this), the left panel of your imo page is devoted to the network, offering you a space where you can "broadcast what's on your mind," and then lists various members. Glancing through the folks listed there, I saw few folks I would want to chat with, and others I was downright wary of, due to their questionable profile pictures
So, I wouldn't turn to imo just to take part in its new network. But as a Web-based messaging service, imo manages to mostly impress. Once the bugs in the group chat feature are worked out–and if they ever add the ability to merge contacts–imo will be top-notch indeed.
— Liane Cassavoy