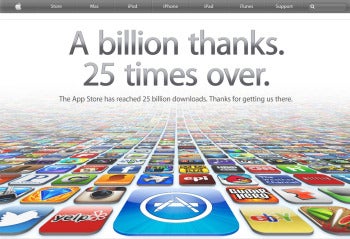 Apple is raking in huge profits on record smartphone and tablet sales, it's become the world's most valuable company based on its stock price, and now it has achieved another staggering feat: 25 billion apps have been downloaded from its app store, an average of three for every person on Earth.
Visit Apple's home page and you'll now see a huge banner announcing an incredible milestone. It's a mind-boggling number, especially when you consider the world's population is now at 7 billion.
Clearly, people love their apps. You have to wonder at what point app usage will overtake Web browsing, considering smartphone usage is at an all-time high.
According to Pew Internet, nearly half of American adults now own a smartphone. That's an 11 percent increase in the number who owned one last May. The study also found that of the people who own a mobile phone, more are smartphone users than non-smartphone users.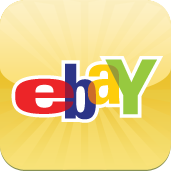 Another factor that's contributing to ever-increasing app usage is how well and fast many apps work compared to the experience users have when they access a site using a regular web browser. Take a look at ebay's mobile app, for instance. If you're at a store and find an item you're interested in, you can open the app and in one click scan the barcode of the item. If the item is for sale on ebay you'll have instant access to the auctions selling it. It's the same thing with Amazon's app as well as many others that make shopping, connecting or gaming super slick.
According to AppleInsider, Apple has paid developers more than $4 billion and offers about 600,000 apps in its store. According to recent figures extrapolated by Aysmco, Apple has sold an estimated 410 million mobile devices as of the end of 2011. So if you take 25 billion downloads and divide it by 410 million you get about 61 apps per device.

Currently the top three best selling free apps in the App Store are Draw Something Free, The Simpsons: Tapped Out, and Camera Awesome, although highly popular choices such as Temple Run, Pinterest, and Jetpack Joyride make the top 20. And you can always find perennial favorites such as Pandora Radio, Twitter and Facebook in the top 30 apps people are downloading.
The 25 billion download mark ends a promotion Apple had been touting in which the person to hit the milestone by downloading an app would win a $10,000 App Store gift card. No word yet on who the winner is.
Follow Christina on Twitter and Google+ for even more tech news and commentary and followToday@PCWorld on Twitter, too.