At a Glance
Expert's Rating
Cons
Everything you add to shelf is public by default
Tag-based search is tricky to use
Our Verdict
A Wikipedia just for books, Shelfari lets you find new books and friends.
If you're a voracious reader, you probably know this feeling: You just finished a great read and are dying to talk to someone about it, but nobody around you ever read that particular book. If this ever happened to you, you may like Shelfari (free), an Amazon-related community for book lovers and authors.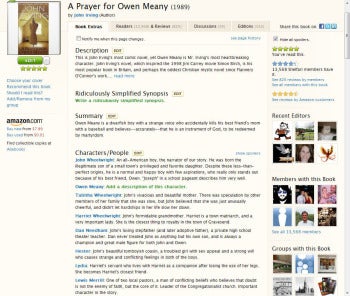 "Amazon-related" means Shelfari is its own website, but it is owned by Amazon and you need a free Amazon account to log in. Once in the service, you are presented with a bookshelf to which you can add books you have read in the past, are reading now, and are planning to read. If a book came out in several editions, you can pick what cover you want to show on your shelf. I like the shelf interface because I mainly read eBooks, and the shelf gives my books a bit more of a physical dimension.
Individual book listings are where Shelfari really shines. These days, just about every online store features crowd-sourced reviews and ratings. Shelfari sets itself apart by allowing users to add and edit many details about each book, such as a summary, a list of characters with names and descriptions, quotes, settings and locations, and more. There is even a special section for the book's first sentence. The result is almost like a purpose-built Wikipedia just for books: It is no wonder Amazon chose to tap Shelfari for its Shelfari Extras feature in the Kindle for PC application.
Having so much information available about every book can also cause spoilers. Shelfari tries to mitigate the risk by providing a "show spoilers" link next to the synopsis, and a spoiler warning next to the summary. Still, you may not want to delve too deeply into the details prior to actually reading the book. For example, if you look at the listing for Ayn Rand's Atlas Shrugged, you will see that the very first character listed is a bit of a spoiler (don't look if you haven't read the book).
Every book also features a tag cloud with popular tags shown larger than others. This makes it possible to search for books by tag, something you can't do on Amazon. You can refine results by searching for multiple tags: I browsed "historical fiction" and added "dystopian." The first result was Kurt Vonnegut's Slaughterhouse Five, and other results were equally relevant. The interface is not as usable as it could be–the multiple-tag option is hidden behind a tiny link that says "filter with multiple tags," and auto-completion is provided only for the first tag. The site also features a book recommendation engine, currently in Beta, as well it should be: It could find no recommendations for me, despite having 22 books on my shelf. This is in stark contrast to Goodreads' recommendation engine, which had me rate books until it could offer plenty of recommendations across multiple genres.
Every Shelfari user has a public profile page showing books they put on their shelf. This makes it possible for like-minded readers to follow you, talk to you about what you've read, and recommend other books. By default, every book you add is shared publicly, unless you tick the box that says "keep this private" when adding it.
For me, Shelfari is a great way to keep track of what I read, remember books I've read a while ago, and plan future reading. Even without taking an active part in the community, Shelfari offers plenty of functionality in a unique, purpose-built format.
Note: The Download button takes you to the vendor's site, where you can sign up for an account and use the free service.
–Erez Zukerman