The newest cavity-inducing Android operating system code name will be Key Lime Pie, according to The Verge. No details are available about Key Lime Pie aside from a possible 2013 release date, so it's unclear if the OS is intended for smartphones, tablets, or a sweet mash-up of both.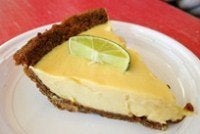 That Google is working on future operating systems isn't a shocker, but even mentioning Key Lime Pie makes the Android release schedule seem glutted. After all, Ice Cream Sandwich isn't even available on most Android phones; and Jelly Bean, intended for tablets, still has only a rumored Spring 2012 release date. The good news is that the 2013 date suggests that Google is slowing down with the releases a little bit, which will give Android fans some breathing room.
I think the next Android flavor should be Chrome. The idea of chomping into a slick metallic lollipop doesn't exactly induce Pavlovian dribbles, but Google needs to stop cycling between smartphone and tablet operating systems and focus on a cohesive one-stop-shop product.
And there's no time like the present. Now that Microsoft has created an inspired ecosystem with Windows 8, one that could crumble the walls of Apple's fanboy-driven garden, Android's lack of cross-platform functionality is sticking out like a sore thumb — one that will only swell further as long as Google pops out countless Android iterations.