Now that apps have become such a key part of computing life, it seems pretty safe to assume that most of us have had an idea for a new one at some time or another.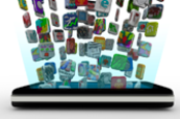 The prospect of actually building an app may seem prohibitive to those without software development skills, but two tools can now make it possible and even easy to make an app–not to mention free.
Some 15,000 new apps are released each week on the mobile side alone. Could yours be the next Angry Birds? You'll never find out if you don't give it a whirl.
1. MIT App Inventor
Android fans may remember Google's debut back in 2010 of App Inventor for Android, which opened up to general use in December of that year. By enabling users to build by simply dragging and dropping premade blocks of code, that browser-based tool was created to make mobile app development possible for anyone, regardless of their programming experience.

The project ended up moving to MIT following the closure of Google Labs last year, and on Sunday the MIT Center for Mobile Learning announced that it has released the free tool as an open beta preview for public use by anyone with a Google ID.
Virtually any kind of Android app can now be built using MIT App Inventor without the need for professional development skills. Users design their app in their Web browser through a drag-and-drop interface, and the results of their work are visible on the phone as well thanks to a live connection between the devices.
Private beta testing of MIT App Inventor has included up to 5,000 users, so there may be some adjustment as it scales up further for public use, the developers warn. "For now, we suggest that you maintain backup copies of important apps, as we see how things go," they note.
A stable release of the software is scheduled to debut within the first quarter of this year. Meanwhile, source code is also available from the project's Google Code site.
2. Real Studio
Real Studio is another tool designed to enable app development by people with little or no software development expertise, and on Monday Real Software–the tool's maker–announced a program whereby it will give free licenses for the desktop app development tool to the first 20,000 unemployed users worldwide who sign up.
Real Studio Desktop Edition lets you build standalone, native applications for Mac OS X, Windows, and Linux. Using a drag-and-drop interface and object-oriented language, the tool aims to protect users from much of the code–in fact, a lot of the development using Real Studio can be done without writing any code at all, the company says. The video below explains Real Studio in more detail.
To get a free Real Studio Personal license through the new Apps for Income program–such licenses are normally priced at $99 with six months of updates–users need only be one of the first 20,000 people to submit a current proof of unemployment from their local government. In addition to a license, users will get full access to Real Software's online customer service tools, including email with support specialists, training videos, and user forums.