As everybody knows, the most striking thing about Windows 8 is its Metro interface–those brightly colored tiles that serve as both shortcuts to programs and live widgets reporting data from those programs.
The interface has been widely praised around the Web, and for good reason. It's a bold innovation (especially coming from a company that's normally so timid), it looks great, and it makes getting around Windows a lot more fun.
But in the Windows 8 Consumer Preview, at least, Metro is as annoying as it is innovative, especially if you attempt to use it with a keyboard and mouse instead of with a touchscreen. Among other problems, its shortcuts are difficult to use, it disappears without warning, and it makes any attempt to change settings on your PC a scavenger hunt.
It's important to remember that the Consumer Preview isn't final code, and Microsoft will–I hope–fix many of the problems that now afflict the OS before it releases its final product. But if you're thinking about downloading the preview version, you ought to know about these problems. And unfortunately, some of the issues are so fundamental that I wonder whether Microsoft can come up with satisfactory fixes for them in the upcoming months.
(One caveat before I begin: I'm basing my criticisms on my experience using Windows 8 Consumer Preview on a dual-monitor desktop. My colleagues who have spent hands-on time with the OS on a Samsung tablet tell me, not surprisingly, that many of the problems I encountered didn't arise on the touch device. For a contrasting view of the Metro interface, see my colleague Nate Ralph's article "Windows 8 Metro UI: A Bold New Face for Windows.")
Here's what's bothering me about Microsoft's new interface.
There's a wide gap between Metro and the regular desktop.
With a Windows 8 PC, you can either be in the Windows Phone 7-style Metro interface or on a desktop that closely resembles the traditional Windows 7 desktop. But these interfaces don't just offer two different ways to look at the same thing. They act more like two separate operating systems working side-by-side, with separate apps, different settings, and very different rules of operation.
Take Internet Explorer, for instance. On the traditional desktop, IE by default has an ever-present address bar and navigation buttons, as you'd expect of a browser, and you can run the window maximized or not. In Metro, IE's address bar and navigation buttons mostly disappear once you're on a page; the window is always full-screen and you can't make it smaller.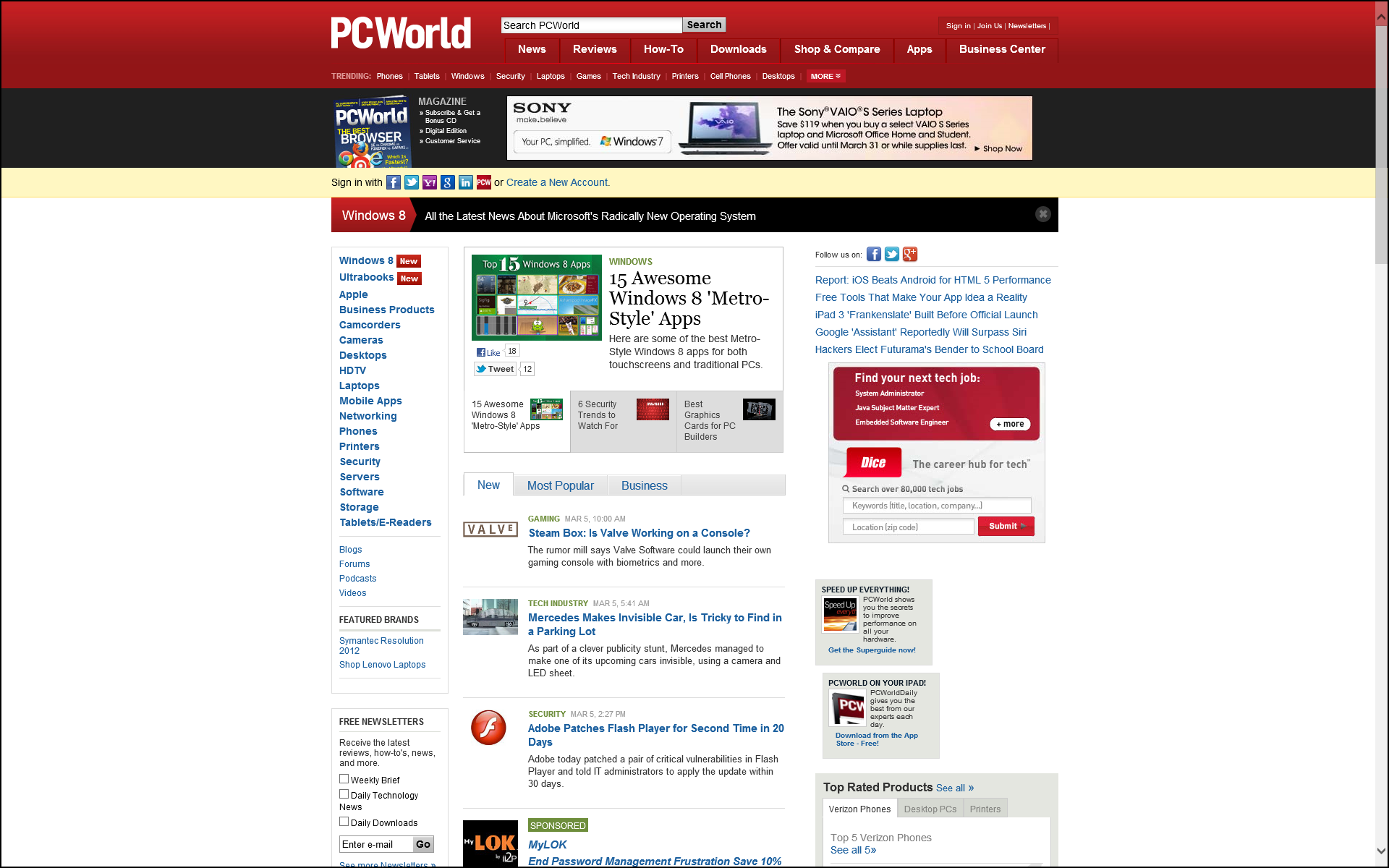 And as if it weren't confusing enough to have the same application operating differently depending on the interface you select, there's also this: Suppose that you're browsing in IE in the Metro interface, but then you switch to the regular desktop and click the IE icon there. You won't see the Web pages you were just surfing in Metro. Instead, you'll find yourself in a whole new instance of IE, starting from scratch. Experiences of this sort make Metro and the traditional desktop feel not like two UIs laid over the same operating system, but like two separate operating systems coexisting on the same machine.
It's hard to stay in Metro.
It may not be obvious from my complaining, but I like the Metro interface, which is why I'm frustrated that getting knocked out of it–especially on a dual-monitor system–is so easy.
Typically, if you have two monitors, your primary monitor will use the Metro interface and the other will use the traditional desktop (unless you mirror the primary desktop on the secondary, but what's the point of that?). Click in a window on the non-Metro display, and your other screen automatically switches from Metro to traditional desktop. If you're on the Metro start page and you choose the wrong option, such as a shortcut to a non-Metro-ized application, you get bumped out of Metro.
Metro shortcuts are tricky and annoying.
Clearly Metro was designed, first and foremost, to work with a fingertip. But I found that trying to make it work with a mouse and a keyboard was often frustrating and seldom intuitive.
To open the Metro start page, for instance, you drag your pointer to the lower left corner of your screen. A thumbnail image of the start page pops out. My instinct, honed by thousands of Flash interfaces on the Web, is to move my pointer into the popup and click. But in Windows 8, If you do that, you actually click whatever icon beneath the popup window your pointer happens to be resting on. In Windows 8, you have to keep your pointer off screen while you click. This change is easy to learn intellectually, but harder to make instinctual, given the years of conditioning we've had to do the opposite.
(Alternatively, you can switch interfaces by pressing the Windows button. That method works fine, unless–like me–you've trained yourself over the years to avoid the Windows button at all costs.)
As I mentioned earlier, IE in the Metro interface often shows no address bar or other buttons, including tabs for other Web pages that the user already has open. I tried everything I could think of to get them to appear–moving my pointer off the top and bottom of the screen, trying to "grab" the bars with my mouse while it was off-screen–but nothing worked. Finally, my colleague (and Metro enthusiast) Nate Ralph told me that I had to right-click an empty area on the Web page to gain access to the controls. Without his timely intervention, I might have thrown something through my monitor.
Metro apps are easier to navigate with a finger than with a mouse.
The interfaces in most Metro apps are wide and are built to scroll horizontally, sometimes through screen after screen. This arrangement works great when you're navigating with a finger on a tablet; but with a mouse, not so much. Your options are to use the scrollwheel on a mouse or the scrollbar at the bottom of the page. I'd be able to left-click an empty area of the page, grab it and pull it to the side horizontally, as you can in many Adobe applications. To me that seems like a closer analogy to the way people navigate pages by touch.
All Metro apps display at full-screen size and can't be moved from one screen to another.
The look is striking and gives the applications lots of breathing space. But sometimes you need to see two programs at the same time, to compare information or to move data from one application to another. You can grab the top of an application and move it so that it sits in a vertical panel on the side of your screen, but that orientation isn't useful for most programs.
Metro apps look pretty, but their information density is often quite low.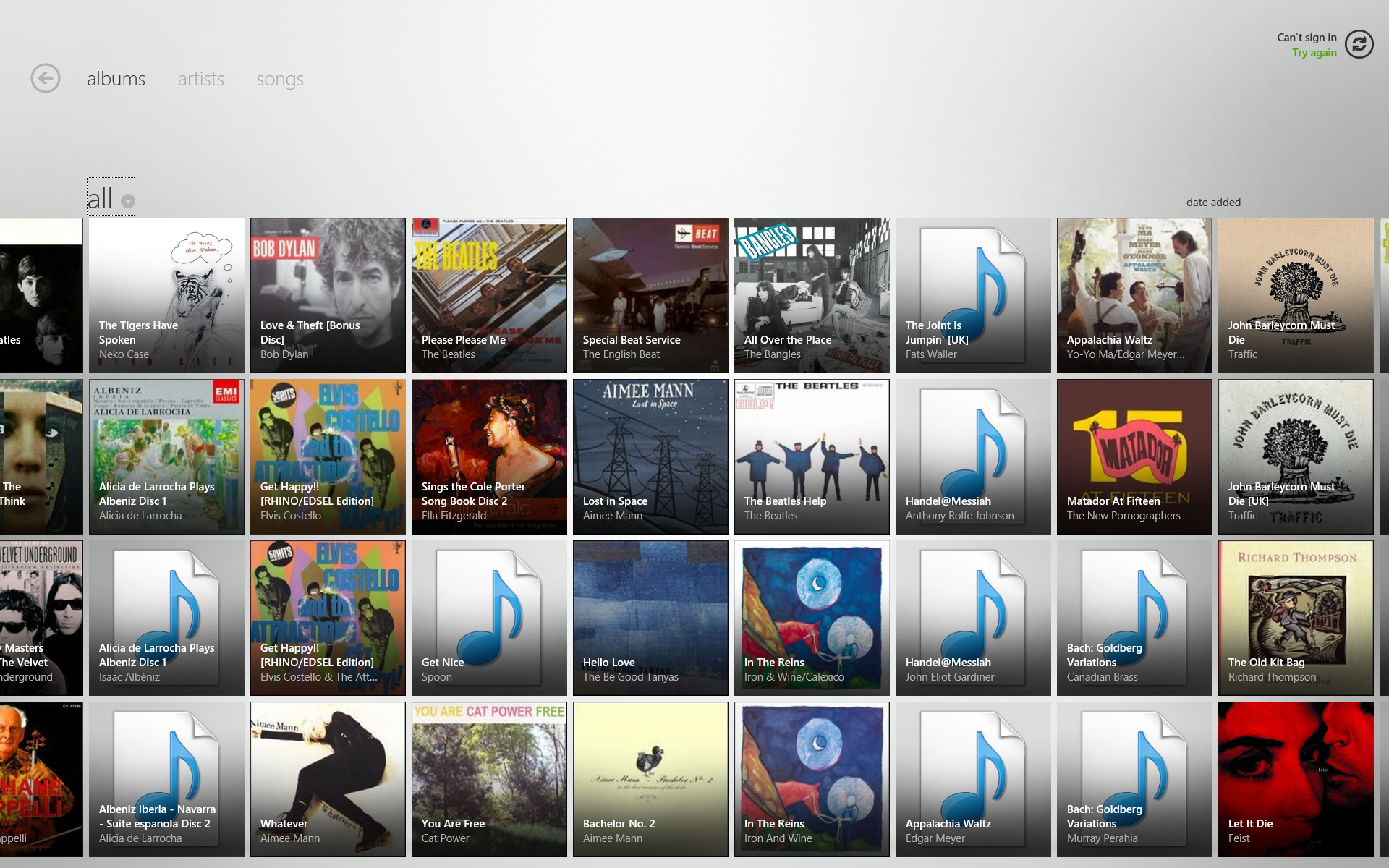 The Music app is one example of a Windows 8 app that supplies a low density of information per screen. Albums, artists, and even songs appear as an array of tiles. On my wide-screen monitor, I can see only 24 tiles at a time. To see more albums, I have to scroll horizontally; and if I scroll too fast, I see just generic gray tiles, which persist for a few seconds while the app populates the tiles with album names and art. Once the images are in place, the app has an attractive look, and you can narrow your focus by searching by genre, but it's not an efficient way to scan a library of hundreds of albums.
Other Microsoft apps, such as the people and photo apps, have a similar design, and third-party designers are obviously reading from the same playbook. The Evernote app, for instance, is almost unusable if you need to find an older note from a large collection. It shows just 14 tiles per screen on my system–and the notes are arranged strictly chronologically, with no search function. Surely, Evernote will do better in future updates. But the underlying problem is that the apps' design motif, while great for tablets, doesn't make good use of the capabilities of a real PC.
Windows 8 menus are contextual.
If you click the Settings icon while you're in the Metro start page, you get settings specifically for the start page. You can click a link below for 'PC Settings', but those settings don't include everything you're used to having access to in the Windows Control Panel. To obtain a link to the Control Panel, you must click the Settings icon while you're in the traditional desktop.

Perhaps this is something users will become accustomed to; after all, it is how many mobile apps work? But I think users expect more consistency from their desktop OS.
How much can Microsoft fix?
I want to stress again that, appearances to the contrary, I really like the Metro interface. I think that many of my gripes involve problems that Microsoft could probably fix fairly easily, perhaps by the time the final version of Windows 8 ships. Other issues, however, such as the tablet-oriented design of applications and the fact that the Metro and traditional desktops feel like separate operating systems, are more fundamental and make me wonder whether Microsoft can come up with a solution that makes Windows 8 feel like a cohesive unit.