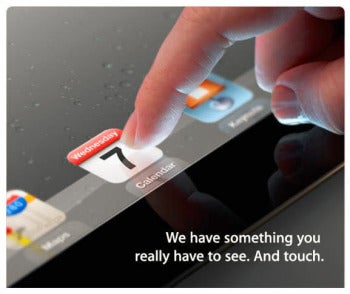 On Wednesday Apple will pull the curtains back on its third-generation iPad with a list of new features only Apple knows for sure. With Apple's second-generation iPad, I'll be honest, I was not blown away. Aside from the iPad 2's reduction in size and weight, Apple hadn't gone far enough with updating its tablet. But on Wednesday three might be a charm for Apple's iPad. I have high hopes this time around.
Regardless of what this next iPad is called–iPad 3, iPad HD — I'm looking for Apple to advance how I can use the tablet. Here are the five features I'm looking for, in order of importance.
1. High-resolution display. As a photographer, a reader, and a general consumer of media, you will find no greater proponent for high-resolution tablet displays. The iPhone 4's Retina display spoiled me with its crisp, sharp text and gorgeous image reproduction, and there was no going back from that.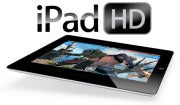 When I could see the visible dots in the text of the iPad 2, reading on that tablet felt like a comparatively dismal experience. The iPad 2's 1024 by 768 display made Android tablets with higher-resolution 1280 by 800 displays seem cutting edge. Android tablets have already gone further in the resolution race. At CES I was dazzled by first 1920 by 1280 pixel displays on Android slates. The improvement, compared to the iPad 2 and earlier Androids is visceral: text lacks pixilation and images and graphics pop off the screen.
Bring on the high-res display for iPad, rumored to be at 2048 by 1536 pixels, and let the visual feast begin.
2. Better quality camera and video. Upping the still and video camera quality on the next iPad to match what we have on the current iPhone 4S would be a huge benefit for iPad over its competition, and a huge benefit to consumers, too.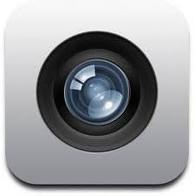 While I've heard many a tech pundit belittle the concept of using a big-screen tablet for photos and video, the truth is this that this is exactly how consumers are using the iPad or any tablet. I routinely see people using the tablet they have on hand—more often than not, an iPad 2—to take pictures or video. I've even seen college sports teams use an iPad to stream video of gymnastics competitions to the Web. None of this surprises, to be honest—the best camera you have is the one you happen to have with you when you want to get the shot. But iPad 2's still and video quality are subpar, to put it mildly.
3. Even lighter weight. The original iPad launched at 1.5 pounds. The iPad 2 debuted at 1.33 pounds. So it's not unreasonable to want, even expect, this next iPad to continue to shed weight. What I'd like to see on Wednesday is a 10-inch class iPad tablet—of which I consider the iPad's 9.7-inch display to be a part—that weighs-in at a pound. But in the meantime, I'll take any and every ounce that can be shaved off.
The weight issue isn't simply about carrying the iPad as if it were to be compared to a lightweight notebook. The tablet needs to be light so you can use it more naturally. For example, holding the tablet single-handed while navigating with your other hand. Whether you're showing off photos or using the tablet for reading, one-handed operation is very common. And it gets very tiring when you do so with a 1.33-pound or even 1.2-pound device.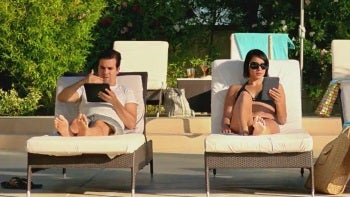 4. Mitigate glare. Tablet after tablet make me cringe when I can see the visible air gap between the cover glass overlay and LCD panel below. The air gap decreases image quality by increasing reflectivity, causing a reduction in luminance and contrast. This is because light is dispersed through the air gap.
There are ways of mitigating or eliminating the air gap entirely, and in so doing, Apple would go far to make the iPad a must-have device. The air gap is a big differentiator between Amazon's Kindle Fire tablet—which has a horribly reflective display—and Barnes & Noble's Nook Tablet, which uses optical bonding technology to eliminate the air gap entirely (see our head-to-head comparison of Kindle Fire and Nook Tablet for more on how those two tablets compare.)
5. A tablet-friendly OS. Apple's iOS has lots to like and works tremendously well on a phone. But on a tablet, it increasingly feels stilted and static, as if it's not really an organic part of a Web-connected always-on tablet. I'm hoping we'll see some feature tweaks on Wednesday.
By comparison, the connected, always-on nature is one aspect of Google's Android OS that plays really well on tablet. That goes the same for Microsoft Windows 8's live tiles approach. Sure, the iPad has notifications, but the widget-free, static iOS home screens of today could use some livening up.
I'd like to see functionality on the iPad better tailored for the form factor. How about shortcuts to frequently used settings, similar to what is found in Android 3.x Honeycomb/4.x Ice Cream Sandwich? It shouldn't take me multiple steps through layers of settings screens to adjust brightness, or access Wi-Fi or airplane mode settings.
How about icons or widget-like modules that display dynamic information? By comparison the Android OS offers live updates to weather widgets, an email widget that shows your most recent messages, another that shows your most recent books. These usability tweaks could go a long way to helping iPad become more useful, and more competitive, in the areas that Android today overshadows it.
Bonus desire: Free me from iTunes. Dream big, I always say. I want Apple to open up the iPad to direct file access, so I have the option to just drag and drop my files—be they images, videos, music, or documents—directly onto the device, and avoid the hassle that defines today's iTunes. This ability would be incredibly freeing, and today remains a big advantage in favor of Google's Android.
What would you like to see in the next iPad? Tell us in the comments.
Follow Melissa J. Perenson on Twitter at @mperenson.