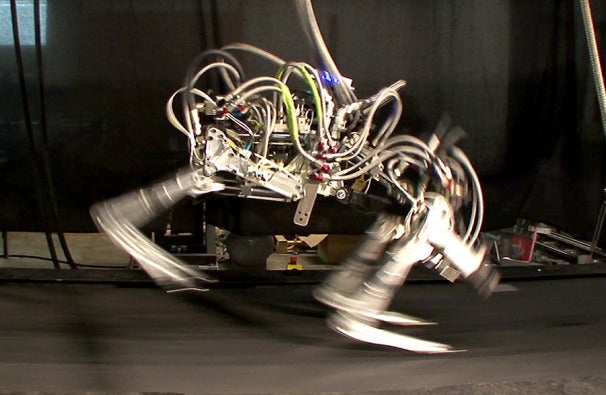 From the makers of the Terminator-esque Petman and the load-bearing Alpha Dog, comes Boston Dynamics's latest robotic terror: a robotic Cheetah.
The new Cheetah Robot is the latest animatronic creation to come out of DARPA's Maximum Mobility and Manipulation program. It is the fastest four-legged robot in the world, and it can reach speeds of 18 miles-per-hour; the previous land-speed record for a four-legged robot was 13.1mph set by MIT in 1989.
The Cheetah has a specially designed articulating back that flexes back and forth with each step. This allows the Cheetah to extend its stride and increase its running speed. So far, Boston Dynamics has only tested the robot on its indoor treadmill with a boom to keep it centered.
Later this year, the Boston Dynamics team hopes to take it off hydraulic power and test the "free-running" (*gulp*) version in the real world.
Although we're quite frankly terrified of how well this robot cheetah will be able to run us down during the robot apocalypse, we are much more interesting the in Boston Dynamic's artist rendering of what appears to be the Blue Lion from Voltron.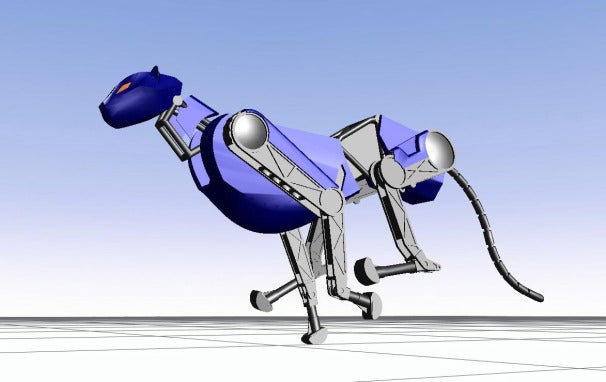 How fast can you run? Leave a comment.
[Boston Dynamics via Wired and Engadget]
Like this? You might also enjoy…
Get more GeekTech: Twitter – Facebook – RSS | Tip us off