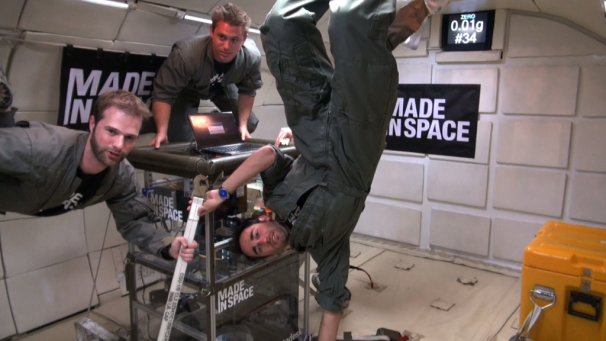 Made in Space, a Silicon Valley startup located at the NASA Ames Research Center, aims to get a 3D printer into the International Space Station by 2014. Why make parts in orbit? It's practical: Maintenance of the International Space Station (ISS) currently requires expensive rocket launches to carry replacement parts and tools into space.
With the ending of the US Space Shuttle program, the US currently has to rely on other countries for supplying the space station. If the ISS had a 3D printer and a ready supply of feedstock (the plastic, metal, or even concrete "ink" used by the printer), the most the astronauts would need from Earth is an email with a CAD file of the part they want.
As a proof-of-concept, Made in Space brought along a custom 3D printer and a Bits from Bytes 3D Touch with them on a two-hour reduced-gravity aircraft flight (better known as the Vomit Comet). The parabolic flight pattern of the aircraft creates periods in which the plane and its passengers (including printers) are in free-fall, simulating microgravity for about 25 seconds per parabola. The Made in Space team then had about 20 minutes total of reduced gravity to print a part, and so they did: a small wrench that is the first-ever tool produced in partial gravity.
These parabolic flights show the feasibility of printing spare parts or tools for repairing space stations, or even reentry spacecraft. Broke your screwdriver? Print another! Crack in your thruster nozzle? Fabricate one on the fly (excuse me, "while in orbit") out of titanium. The best thing about printing things in space? Made in Space engineer Dr. Jason Dunn pointed out that you don't need to consider gravity while designing parts, and that sensitive tools would no longer need to survive the intense vibrations and g-loads present during spacecraft launch.
In the future, 3D printers could even use extraterrestrial soil as feedstock: lunar regolith, a Made in Space scientific advisor points out, could take the place of cement powders in some types of printers.
What does NASA have to say about fleets of giant 3D printers fabricating spare parts and socket wrenches while in orbit? Last week at the Next-Generation Suborbital Researchers Conference in Silicon Valley, Gary Martin, Director of the New Ventures and Communications Directorate at NASA Ames, said he wants space open to more minds, and sees the final frontier as the ultimate "hackerspace" for makers and tinkerers.
Now that it has the blessing of a NASA director, we here at PCWorld's GeekTech blog are excited about the future of 3D printing in microgravity. For now, turning the ISS into a small-scale factory sounds great to us–as does being able to use the phrase "IN SPACE!" in a legitimate context.
Alessondra Springmann is a freelance writer and astrophysicist who dreams of microgravity. She tweets and blogs, occasionally about space and sometimes concurrently. Rachel Martin spends her days fabricating things out of molten metal in MIT basements. Drop them a line and say hi.
Like this? You might also enjoy…
Get more GeekTech: Twitter – Facebook – RSS | Tip us off