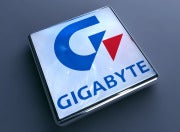 Laptop maker Gigabyte unveiled its first Ultrabook class laptops at CeBIT, the world's largest IT trade fair taking place in Hanover, Germany this week. The 14-inch U2442N and U2442V Ultrabooks stand out for both their high-resolution 1600×900 pixels resolution displays and their Nvidia GeForce dedicated graphics cards.
Most Ultrabooks come with standard 1366 x 768 pixel resolutions on 13.3 inch displays and integrated graphics cards. The Gigabyte U2442 series laptops break out of that mold—offering a higher resolution display and dedicated graphics.
In return, these laptops aren't the absolute thinnest of the Ultrabook bunch, but they're still plenty thin. The U2442 models measure 18.5mm to 20.5mm (0.72 inches to 0.81 inches) thick and weight 3.3 pounds at their lightest.
The laptops will come with 3rd-generation Intel Ivy Bridge Core i5 or i7 processors. The U2442N model will ship with a standard voltage processor for pretty powerful mobile performance (and battery drain), while the U2332V will come with a ULV processor.
As mentioned, the Nvidia GeForce GT 640M GPU, with 2GB of video memory, will be an option in the U2442 Ultrabook, making this the first Ultrabook with discrete graphics offered—a boon for gamers and others who tax their system's graphics capabilities.
A backlit keyboard, Bluetooth 4.0, USB 3.0, optional Thunderbolt port, and both SSD and HDD options will be available for both laptop models. The Ultrabooks are expected to be released sometime this summer in the $,1000 range.
Follow Melanie Pinola (@melaniepinola) and Today@PCWorld on Twitter