At a Glance
Expert's Rating
Pros
Clean interface
Supports many many services
Cons
Some options are hard to find
Our Verdict
Mash together Twitter and Facebook updates into a single app, without a lot of clicking.
If you're a social networker who's really, really social, you'll appreciate Seesmic Desktop 2. This social media manager offers support for more than 90 services, including everything from the basics like Facebook and Twitter to lesser-known offerings like Yammer and Stocktwits.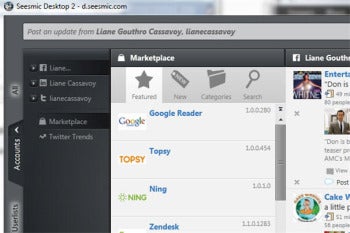 Seesmic Desktop 2 is one of Seesmic's social apps; the other is Seesmic Web, a cloud-based offering that can sync with the desktop counterpart. Seesmic also offers a host of mobile apps, including versions of Seesmic for Android, iOS, and Windows Phone, and a separate mobile app called Ping, which focuses on allowing you to post status updates to multiple services.
Seesmic Desktop 2 offers that feature, of course, as well as many others. When you download the application, it features integrated support for Facebook, LinkedIn, Ping.fm, Salesforce Chatter, Twitter, and–curiously enough–the now-defunct Google Buzz. Connecting accounts is a seamless process, unless you try to connect a Google Buzz account, which will result in an error page. To gain access to the 90 or so additional services that Seesmic supports, you'll have to add them via the app's integrated marketplace. Doing so is easy, and this approach nicely prevents these lesser-used services from cluttering up Seesmic's interface.
And that interface is nicely streamlined. Seesmic features the column-style interface favored my many of its competitors, like TweetDeck. It lacks the customization of an application like Sobees Desktop, which lets you rearrange columns and panels to your heart's delight: Seesmic (like TweetDeck, too) keeps everything in columns, albeit columns that you can rearrange to your liking. If you want your Facebook news feed to appear in the first column, you simply drag it to that location. Want to see your Twitter @replies in the next column? Drag them there. The columns stay in the order you set them in, which is a nice change from apps that only allow you to make such changes by accessing a settings menu.
Seesmic Desktop lets you update your status across multiple services at once, and lets you schedule posts for the future. To do so, though, you need to be signed into your Seesmic account, which you can create for free online. Unfortunately, when you see the notification that you must be signed in, the application doesn't automatically take you to the form where you can do so: Instead, you're left to find that option on your own. Without a helpful pointer from the folks at Seesmic, this seemingly simple process would have taken much longer than it should.
Overall, Seesmic Desktop is a slick-looking application that offers plenty of powerful features. It will appeal to folks who manage lots (and lots) of social media accounts across multiple services. Folks who are simply looking for a way to keep on top of Facebook and Twitter accounts might be overwhelmed with Seesmic's many options, though.
Note: The Download button takes you to the vendor's site, where you can download the latest version of the software.
— Liane Cassavoy