At a Glance
Expert's Rating
Pros
Charges the tablet while plugged in
Easy to lift tablet out
Solid on a desk
Cons
No extra ports
Cramped keys
Not truly portable
Our Verdict
This keyboard dock provides a nice, sturdy base to hold the Galaxy Tab on your desk, but it adds no extra ports, lacks a full-size keyboard, and is too thick and heavy to be truly mobile.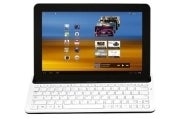 The Samsung Galaxy Tab Keyboard Dock ($80 as of March 7, 2012) is designed to live on your desk. It has a substantial, solid feeling on a desk surface. Large rubber pads on the bottom keep it from sliding around no matter how hard you pound away at the keys, and its hefty weight means the dock stays put when you lift the tablet out.
The dock for the 10.1 fits only the Galaxy Tab 10.1, but the similarly designed 8.9 dock also has an indentation in the tablet slot that will accommodate the 7.0 and the 7.7 as well. The slot where the tablet docks also has a bit of guide plastic that sticks up in the back to hold the slate securely in place, but that prevents the dock from being something you'd want to slip in your bag and carry with you. Moving it from room to room is no problem, though.
For a keyboard dock that seems more at home on your desk than in your carry-on, the keys are unfortunately nothing close to desktop-keyboard size. Rather, they are closer in size and spacing to netbook keys, feeling small, cramped, and springy with wimpy feedback. For such a thick device, the key travel is very shallow. I got tired after just an hour of typing.
It's not all bad though; the tilt is nice, and it holds the tablet at a good angle for desktop use. All of the Android-specific function keys are really handy–you can keep your hands on the keyboard while adjusting settings, navigating, and controlling playback. Regrettably, the keyboard lacks a built-in pointing device, so you may want to add a Bluetooth mouse for the full desktop experience.
Another unfortunate omission: The dock has no extra ports, not even an SD Card slot. The only thing you can plug into the dock is an audio cable for headphones or speakers. I would have liked a device this thick, and designed to be left on a desk, to have some USB ports, an HDMI port, and a few media card slots.
The Galaxy Tab Keyboard Dock is solidly built, holds the tablet at a good angle on a desk, and works fine for light typing. But it makes so many compromises that something designed to live on a desk shouldn't have to make–and it still makes me yearn for a true mobile-dock option for Samsung's Galaxy Tab series.