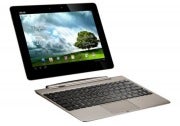 Tablets are great for consuming content–but when it comes time to create, a physical keyboard can make life easier. Just because you want the portability and intuitive touchscreen navigation of a tablet doesn't mean you have to sacrifice the convenience of typing on physical keys. Many tablets now come with options to plug into a keyboard, essentially turning your tablet into a laptop.
Although you can just pair any Bluetooth keyboard to a Bluetooth-enabled tablet–and we've reviewed many such keyboards from tablet manufacturers–choosing a tablet that can plug into a specially designed keyboard dock has several advantages. For one thing, a physical connection is much more reliable than a sometimes-finicky Bluetooth pairing. The physical connection also allows for keyboard designs that incorporate an extra battery for supplying more power to the tablet, plus USB ports or SD Card slots for sending data directly to the tablet.
Another advantage to attached keyboards is that many are designed in a way that turns your tablet into a clamshell-style laptop, giving you the ability to prop the tablet up in the keyboard dock, and then fold the dock over the tablet's screen to protect it in your bag. And since each of these keyboards is designed to work with just one tablet model, they also come with many useful Android- and device-specific function keys, as well as pointing devices such as a touchpad or an optical mouse.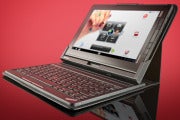 One of the drawbacks to a dedicated keyboard: When you upgrade your tablet down the road, you'll likely have to buy a new keyboard dock as well. A keyboard dock also adds some bulk to your svelte tablet, though it leaves you with the option of unplugging when you're done typing and ready to lie back and read.
I tested keyboard docks from Asus, Lenovo, and Samsung. Each brings a unique set of advantages and disadvantages to its respective tablet, and which one is best for you will depend on your priorities. The Lenovo Keyboard Folio Case is a dream to type on, but adds significant weight and bulk. The Asus Transformer and Transformer Prime keyboard docks add useful extras–such as an SD Card slot and extra battery life–while turning your tablet into a miniature laptop, but in each case typing on the cramped, netbook-style keyboard took some getting used to.
To read more about these Android keyboards, click the reviews links below.