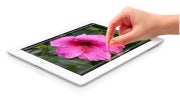 Apple takes the tablet lead over the Android masses with its third-generation iPad announced today. Thanks to an impressive hi-def Retinal display coupled with a bounty of iPad-optimized apps, Apple once again has the tablet to beat.
Chief among Apple's advantages over the Android tablet pack is that it will be the first to ship a superhigh-resolution display. And with that one tweak, Apple takes a big jump ahead of tablet maker Asus, whose closest current offering is a 1280-by-800-pixel display, and which has announced a 4G-capable 1920-by-1200-pixel model, the Transformer Pad Infinity, for later this spring/summer.
But the much-vaunted, much-desired high-res display on the new iPad is not the only reason Apple's will be the tablet to beat.
The More Apps the Better
At Apple's unveiling of the new iPad today, it became clear, more than ever, that the tablet market is being defined by the overall experience. And that polished experience is something that Android tablets are lacking. For example, let's take a closer look at tablet apps. Apple CEO Tim Cook noted that more than 200,000 iOS apps are now optimized for iPad. Android comes nowhere close to that number. I'd give you a number of Android tablet apps to make a comparison, but Google doesn't advertise how many tablet apps are in Android Market; nor does the company make discovering said apps particularly transparent or easy. It begs the question: why?
"You won't find these incredible apps on other tablets," said Cook. "In some estimates, there were over 100 competitive tablets launched in the last year. You won't find that same competitive experience."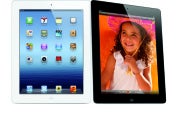 It's All About the 'Experience'
That last point—the experience—is where Apple excels most. Putting together a smooth, elegant, and integrated experience between software and hardware is why the original iPhone took the mobile world by storm when it was first introduced, and why it still succeeds in spite of the army of Android phones now on the market. Apple brings that same design and experience philosophy to its tablets. This is why the third-generation iPad has all the hallmarks of a device that packs in the features that consumers will respond to and want to use.
For example, take the fact that company has significantly boosted the iPad's camera resolution for still images and video. But it's also greatly enhanced the experience of taking photos and doing things with those photos (granted, for some of this, you'll have to invest $5 in iPhoto for iPad).

Android Tablets Still Serious Contenders
By contrast, Android tablets have a solidly engineered operating system and hardware, and could do what consumers want. But that depends heavily upon developers implementing those options. The open nature of Android remains its blessing and curse. Fragmentation of the Android tablets is just as much a problem as it is on Android handsets. By comparison, the Apple credo of "it just works" is a philosophy demonstrated clearly at Apple's keynote when it showed off examples of games and iWorks apps working perfectly on the new iPad at today's launch event.
One Android tablet I see coming close (but no cigar) to Apple's new iPad is Samsung's Galaxy Note 10.1, introduced at Mobile World Congress last week. This is a great example of a tablet that strives to be a "experiential" tablet, with its option of a stylus pen and inclusion of pen-friendly software. This model, when introduced in the U.S. market, should also have an integrated infrared port for use as a remote control.
Android's Biggest Obstacle Is Android
Bottom line: The Android ecosystem as a whole remains hampered by voluntary implementations, "good" but not "required" development practices, and an inconsistent app universe where apps are not optimized for the big screens of tablets. Android does do some things exceedingly well, as we noted in our recent roundup of The Best Tablet for You, but Google and the Android tablet makers are clearly going to have to double-down to battle Apple's iPad juggernaut.
And it is a juggernaut. Today Apple revealed it has sold 55 million first- and second-generation iPads; and of those, 15.4 million were sold in the last quarter of 2011 alone, and about 30 million of those were sold in the past year.
Apple's current model, the iPad 2, is our number one tablet on the Top 10 Tablets chart.
Infographic Comparing iPad Family
The new, third-generation iPad is on the far right of this chart. (Graphic by IDG News Service; source: Apple.)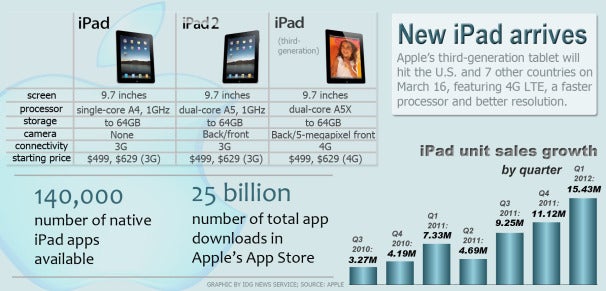 Follow Melissa J. Perenson on Twitter.