Apple's new iPad event was a parade of updated features, from the Retina display to the faster graphics to the optional 4G LTE. Even without Steve Jobs, Apple has proven that it can make a fine show of its latest products.
But as with every Apple event, the company glossed over some of the fine print with its new iPad. Here are a handful of facts that Apple wasn't so eager to boast about:
AT&T Won't Offer Hotspot Yet
The new iPad's 4G models can become Wi-Fi hotspots, serving an LTE connection to up to five other devices. Verizon's on board, telling 9to5Mac that the mobile hotspot feature will be included in the price of data. AT&T, however, has no time frame for offering hotspot in the new iPad. "We are working with Apple to enable this feature in the future, but we currently do not offer it," AT&T said.

The Front-Facing Camera Hasn't Changed
Should you decide to take pictures with the new iPad, you'll find an improved 5-megapixel shooter on the back side, with image stabilization, auto-focus, face detection and 1080p video. Unfortunately, the front-facing camera is still VGA quality (read: 640-by480 resolution). Look on the bright side: The person you're talking to on Facetime won't be able to see your blemishes.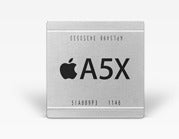 Better GPU, But Same CPU
In describing its new "A5x chip with quad-core graphics," Apple obscures the fact that the CPU is exactly the same as that of the iPad 2's A5 processor, as confirmed by Engadget. Only the GPU got a boost, mostly to serve the new Retina display and high-end 3D games.
The Hardware's a Bit Thicker and Heavier
To make room for the iPad's bigger battery, which was necessary to power the Retina display, Apple had to add an extra 0.11 pounds and and 0.03 inches of thickness to the new iPad's frame. Otherwise, the design is fairly similar to last year's model.
Follow Jared on Twitter, Facebook or Google+ for even more tech news and commentary.