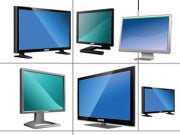 "The more monitors, the merrier" seems to be the philosophy of a growing number of consumers who have taken advantage of historically low prices for flat-screen displays, along with improved hardware and software support, to connect two or more monitors to a desktop.
Is this a good thing? People who have made the transition to multiple monitors seem to think so. Studies performed for monitor makers show that people appreciate having a second display that they can use to get to information quickly without having to toggle or resize windows.
But while most people who use two displays like having them, that doesn't establish that such setups make workers more productive. "You could be playing solitaire on two screens," says James Anderson, professor of communications at the University of Utah.
"It's all about the kind of work you do and how you manage available resources," says David E. Meyer, a University of Michigan psychology professor who specializes in cognition and perception. Meyer says that extra monitors improve your productivity only if they put tools and information that you need within easy reach. For example, a lawyer benefits from having multiple law books handy, and a researcher can write reports on one display while perusing spreadsheet data on another screen.
Unfortunately, Meyer says, people all too often devote extra screen real estate to applications that may distract them from work. Keeping an email application, a Facebook page, or a Twitter feed open on a separate screen creates an ongoing temptation to drop what you're doing in favor of a little diversion. As yet, no rigorous studies have assessed the productivity costs involved in switching between unrelated tasks–but presumably there is some overhead involved in figuring out where you left off–or what Meyer describes as "regaining situational awareness." This takes at least several seconds, and such adjustment time can add up over the course of a working day.
"People dramatically overestimate their ability to manage their environment," Meyer says, adding that in some ways, using multiple monitors to keep all sorts of data visible is analogous to using a cell phone while driving.
In Video: Set Up Multiple Monitors
Multiple Monitors Become More Popular
Whether or not people need and benefit from multiple monitors, sales data suggests that such setups–once found primarily in niche markets such as Wall Street–are becoming more common. Rhoda Alexander, senior monitor and tablet analyst for IHS iSuppli, says that monitor sales of 179 million in 2011 far outpaced PC sales of about 130 million, suggesting that many people are buying more than one display for their new desktops.
But IDC analysts Stephen Buehler and Linn Huang point out that in some of the surplus sales may not be associated with multiple-monitor setups. Instead, they say, buyers may be planning to use them in connection with docking stations for laptop PCs, so that travelers whose primary computer is a laptop can use a larger display when they're working at their desk. Some of these users undoubtedly keep their notebook displays open as well, but others simply substitute a single larger display for the laptop's smaller one.
Users who opt for additional monitors find that adding a second display to a desktop setup is easy and typically entails no more cost than the price of the display and a cable. The built-in Intel graphics on most current PCs support two displays, and Windows Vista and Windows 7 simplify setup.

However, if you want to operate three or more displays from one PC, things get more complicated, and you have to make some choices. At the high end, DisplayPort technology, which is making some inroads in the market, lets you run multiple monitors from a single graphics processor. For example, AMD's EyeFinity-enabled graphics boards support up to six DisplayPort-enabled displays.
The problem for users is that DisplayPort adoption on the monitor side has been slow and even now is available only in a handful of high-end displays. However IDC's Buehler and Huang say that they expect DisplayPort to gain traction later in the decade.
Another option is to add traditional graphics boards to your system, assuming that your PC has empty slots. This approach makes it easier to use legacy monitors since you can choose graphics cards with the connectors you want (such as VGA analog hookups, DVI-I, or HDMI). On the other hand, buying multiple graphics cards is expensive, and installing them (even when your computer has available slots) isn't always fun.
Options Expand for Hooking Up Extra Monitors
A third option is to connect additional monitors to USB ports by using DisplayLink technology to daisy-chain several monitors. You can install DisplayLink software on your PC, but you must have a DisplayLink chip in either the monitor or an adapter or docking station in order to use it with a legacy monitor.
DisplayLink can save you money, since you don't have to buy a graphics card and you can use an older monitor with a relatively inexpensive adapter, but it has some shortcomings. If you're using USB 2.0 ports for streaming high-definition video applications, DisplayLink's software has to compress the video, and images aren't as crisp as they would be with a standard graphics hookup. However, for general business applications, the bandwidth is more than adequate–and the bandwidth issues with USB 2.0 largely disappear with later-generation DisplayLink chips that support USB 3.0.
Fans of multiple monitors will likely appreciate Windows 8's enhanced support. Whereas earlier versions of Windows let you extend your desktop to additional monitors so that you could move windows between displays, they don't let you treat your displays as a single large screen, unless you use special third-party add-ons such as DisplayFusion Pro and MultiMon Taskbar. For example, though you can position a video to straddle two monitors, doing so is pointless because you can't increase its maximum size beyond what would fill a single display. In contrast, Windows 8 will let you integrate multiple displays so that they behave like one very large desktop, and you'll be able to watch movies at expanded size across your connected displays.
For some users, a large widescreen display may be a good (and economical) alternative to setting up two smaller side-by-side displays. "The task environment has a feeling of being more unified if it's all on one screen," says Meyer of the University of Michigan.
Should you be considering a second or third screen? IDC's Buehler and Huang say that only gamers, enthusiasts, and workers in niche industries are likely to find that three or more screens are worth the extra cost. General business users engaged in work that might benefit from the additional screen real estate should consider adding a second display. But anyone who uses a second screen to host distracting applications would be better off saving the money and removing the temptation.