At a Glance
Expert's Rating
Pros
Lightweight sheet-fed scanner
Bundled Eye-Fi card wirelessly transmits scans
Cons
Hardware controls could be more intuitive
Printed documentation is skimpy
Our Verdict
Outfitted with an Eye-Fi SD Card, this lightweight portable scanner can wirelessly transmit JPG images and PDFs to computers, the Web, or your Android or iOS mobile device, making it a useful tool especially for business travelers.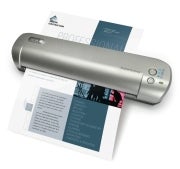 If you need to digitize printed documents or photos while on the go, the Xerox Mobile Scanner fits the bill–and it does so with a twist. About the size of a roll of aluminum foil and weighing about 1.5 pounds, this $250 (as of March 8, 2012) sheet-fed scanner can turn printed items into PDFs or JPGs, and then send them wirelessly to a PC, a mobile device, or the Web in a matter of seconds.
It can do all of that for up to 300 pages (according to Xerox) without being connected to electrical power, assuming that you've fully charged its internal battery. And it doesn't need a preexisting Wi-Fi network either, as it can create a direct connection to any other Wi-Fi-enabled device.
Created by Visioneer (which offers a similar but not identical product under its own brand), the Xerox Mobile Scanner innovates primarily in its use of an Eye-Fi SD Card–a gadget best known for both storing images and functioning as a Wi-Fi adapter, enabling the wireless transfer of images captured by a digital camera.
The Eye-Fi card that comes bundled with the Xerox Mobile Scanner was created for the product. It can store up to 4GB of scans, so you don't have to transfer them right away. When you're ready, you simply launch the free software on the intended destination (a Windows or Mac computer, or an iOS or Android mobile device) to initiate the wireless transfer.
Setup takes only about 15 minutes once you've charged the device–which does take several hours–by running the included USB cable between the scanner and either an AC adapter (also included) or a computer. After that, you connect the USB cable to the PC (if it isn't already connected) and then, with the Eye-Fi card inserted in the SD Card slot located by the USB port, power on the scanner. The Eye-Fi card appears as a drive on the computer, with its installation software in separate folders for Windows or Mac.
Running the installation software prompts you to create an Eye-Fi account, which you'll need to use the wireless features. The account is free, but Eye-Fi offers premium upgrades such as the ability to store your scans indefinitely on Eye-Fi's servers so that you can access them with any browser (the basic account stores the scans only for a week).
After you create the account, you can input Wi-Fi network settings and specify where you want scans to go–for example, to your PC or to a supported Web service such as Facebook. Alternatively, you can use a peer-to-peer Wi-Fi connection (Wi-Fi Direct) with a mobile device, as opposed to an existing Wi-Fi network. The Wi-Fi Direct option is very useful for people on the go since once you set it up, you can transfer scans to a mobile device in multiple locations without having to change Wi-Fi network settings repeatedly. All you need to do is install a free iOS or Android app that will enable the Wi-Fi Direct connection with the scanner.
You don't have to transmit scans wirelessly, however. You can instead store them on the SD Card or on a USB flash drive, or you can scan to a computer using the USB cable.
Scanning is fairly straightforward. The device has only two hardware buttons, a power button and a function button meant primarily for cycling among the three available scan formats (color JPG, color PDF, or black-and-white PDF, all captured at 300 dpi). The power state is indicated by a green LED, while blue LEDs next to small icons show which scan mode you've chosen. To scan a document you insert it face up and flush left into the paper feed slot. The device can scan items as small as ID cards or business cards, or as large as standard letter paper. It takes only about 10 seconds to scan a single sheet.
Xerox throws in a few popular scanning utilities on DVD: Nuance Paperport document management, OmniPage optical character recognition software for turning scanned text into editable copy, and NewSoft Presto BizCard for scanning and organizing business cards. You also get a padded canvas case, plug adapters for different countries, and a calibration sheet that Xerox recommends using as part of a monthly maintenance routine.
I had only minor quibbles with the Xerox Mobile Scanner, mostly stemming from the rather skimpy printed documentation (a quick-start guide). For instance, you have to go to the online manual to learn how to set up the Eye-Fi card and understand the error codes, which appear in the form of flashing LEDs.
The printed guide also fails to mention the device's airplane mode (which turns off the Eye-Fi card's wireless capability), and how to access it: You hold down the function button after selecting the black-and-white PDF scanning mode. I inadvertently put the device into airplane mode while trying to set up the Eye-Fi to work with my iPad, which led to extended tech support sessions. Better documentation and/or a more intuitive design might have avoided the problem.
That said, however, the Xerox Mobile Scanner generally delivers on its promise of quickly creating scans in popular formats and moving them wirelessly to PCs, mobile devices, or the Web. While smartphone cameras can do some of this work for smaller documents, business travelers with more serious scanning needs should find the Xerox Mobile Scanner a versatile and useful tool.