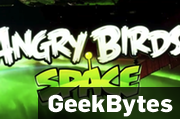 We see lots of weird and wonderful stuff here at GeekTech, but there are days where we just can't get to all of it. That's where GeekBytes comes in: Here's your roundup of what's awesome for March 8, 2012.
It's like something out of a nightmare: thousands upon thousands (millions) of spiders covered a small town in Australia in spider webs as they attempted to flee rising flood waters. We won't post photos here for the sake of any arachnophobes out there, but head on over to Geekologie if you want to be absolutely terrified.
Back at CES, we spotted a gadget that could recharge your phone with a tablespoon of water. If that isn't mind-bending enough for you, we present AIRE, a concept design for a device that would let you charge your phone just by breathing.
You likely wouldn't want disassemble a DSLR lens and turn it into a coffee mug–especially given some lenses can cost more than a DSLR body. But if you want to freak out/impress your photographer buddies, check out this coffee mug styled to look like a telephoto lens. Get yours on Amazon.
Last but not least, we'll leave you with this YouTube video of a NASA astronaut describing the physics behind Angry Birds in Zero Gravity. Cool. The video itself is to promote the upcoming game, Angry Birds Space, which is due out on March 22.
GeekTech Must-Reads…
Get more GeekTech: Twitter – Facebook – RSS | Tip us off