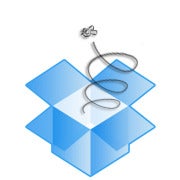 The online storage service Dropbox has overhauled its Website, making it a lot more useful for managing files without a native app. The revamp brings a much-needed upgrade to Dropbox making the management of files through the Web much easier.
Before the update, Dropbox's Web interface was a bit clunky. To manage a file, you had to select it with a check box, which made selecting chunks of files difficult. There was also no easy way to view photos without opening each one individually.
The new Dropbox interface acts more like the kind of file viewer you'd expect on a PC. When you click on a file, an action bar with file management options appears at the top of the list. You can also pop up the same action list by right-clicking on a file (see image example).
Dropbox also now supports keyboard shortcuts. Just like in the Windows, you can highlight individual files with Ctrl-click, select a batch of files with Shift-click, or select all with Ctrl-A. Pressing "?" reveals a full list of supported keyboard shortcuts.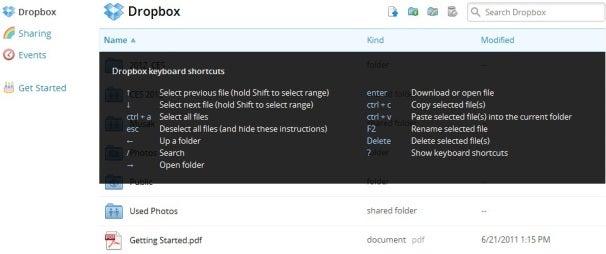 Drag-and-drop support has been added as well (see image example) allowing you to easily move files into Dropbox from your computer's native file browser. There's also an improved search bar, which shows results as you type.
Users who rely on Dropbox to store photos will appreciate the Website's new photo viewer. Clicking on a photo darkens the screen and brings up the photo in a large view (see image example), and if there are more photos in the folder, users can look through them with the keyboard's arrow keys. In folder view, Dropbox now shows image thumbnails, with support for Photoshop and Illustrator files.
The end result of all these changes is that you might not need to use Dropbox's native app anymore. The native app creates a Dropbox folder on your computer's hard drive, which gets treated like any other folder in your system, except that it can sync files online. That's still quite useful if you're moving large batches of files back and forth, or if you you're using the folder for backup purposes. But if you're only using Dropbox as an occasional tool for storing and retrieving files across multiple computers, using the Website won't feel like a serious compromise.
Dropbox says it's adding a lot more new features over the next few months. Hopefully the ability to sync files from outside the Dropbox folder is high on the list.
The update puts Dropbox's Website a step above that of rival Box. Although Box's online storage site supports drag-and-drop and right-click menus, it still relies on check boxes for selecting and managing files, which aren't as convenient as Dropbox's keyboard shortcuts. (Friendly reminder for Box users: Logging in through the service's Android app by March 23 gets you an upgrade to 50 GB of storage.)
Follow Jared on Twitter, Facebook or Google+ for even more tech news and commentary.
When you purchase through links in our articles, we may earn a small commission. This doesn't affect our editorial independence.