Angry Birds is on your iPhone, Android device, your Mac and PC in your browser, on Facebook and Google+. It's available as candy and plush toys in local stores, but now Angry Birds is seeking new markets off the planet. In a move that would make the Mario Bros. blush, Rovio on March 22 releases yet another version of its famous game, called Angry Birds Space, alongside an Angry Birds marketing bonanza.
Presented by the Samsung Galaxy "It's got a pen" Note, Angry Birds Space will be available for iOS, Android, Mac, and PC at launch. It's not clear if Facebook and pork rinds fans will also see Angry Birds Space at launch, but Rovio promises new Angry Birds animation, merchandise, and books.
To get you hyped up for the the next Angry Birds game, Rovio recently released a teaser video featuring NASA astronaut Don Pettit aboard the International Space Station. Pettit explains the importance of trajectory for spacefarers, including the world's newest astronauts, the Angry Birds. After Pettit's three-minute sermon about the importance of lining things up just right, Rovio gives us a sneak peek of Angry Birds Space.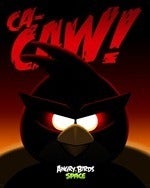 And guess what? You do exactly the same thing in the new game as you've always done, but this time it's in space. There is at least one interesting twist to the new game: you have to deal with gravity fields from planetary bodies as you smash up the green pigs.
Angry Birds Space will feature 60 levels, new characters, superpowers, and gameplay. And, as an added merchandising bonus, you can purchase new levels using in-app purchases, although Rovio does plan to release new levels for the game as well. The company plans to showcase the new game Friday during the SXSW Interactive conference.
This may not be the last you hear of Angry Birds in space, either. Rovio says it is just beginning a partnership with NASA to collaborate on educational initiatives. Rovio is also working with National Geographic Books, which will publish an official companion book to Angry Birds Space.
If you haven't had your fill of Angry Birds yet, Rovio will be releasing more videos featuring the new spacey Angry Birds characters on its site on March 10, 12, 14, 15, and 16.
Angry Birds Space: NASA Announcement:
Connect with Ian Paul (@ianpaul) on Twitter and Google+, and with Today@PCWorld on Twitter for the latest tech news and analysis.