At a Glance
Expert's Rating
Pros
Good output quality
Good performance
Cons
Expensive toner
No automatic duplexer
Our Verdict
Expensive toner and the lack of automatic duplexing make this small-office printer less appealing than it could be.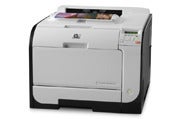 The $450 (as of March 9, 2012) HP LaserJet Pro 400 Color M451nw color laser printer has nice output and is relatively speedy considering the price. However, it suffers from the same pricey toner of most entry-level color laser printers, and it lacks the automatic duplexing found in HP's slightly more expensive 'dn' and 'dw' variants.
Our test M451nw was decently constructed. You can easily access the slide-out toner tray and paper path through a fold-down front panel. A pop-off panel on the right side makes it simple to upgrade the unit's standard 128MB of memory to 384MB. The one slightly bothersome component is the bottom-mounted, letter/legal standard paper tray. The tray itself is sturdy enough, but the latch holding it inside the printer offers barely any resistance. HP says it designed the tray to be easy to open, but instead the company managed to make it feel insecure.
The M451nw's controls are adequate for what is really a simple device. You get a two-way rocker button for navigating the two-line LED. That's fine for general operation, but not for manual Wi-Fi setup: You need to attach the printer via USB or ethernet to set up the wireless, unless your router offers WPS (Wi-Fi Protected Setup).
Paper-handling features are sufficient for a small office or workgroup–if the users aren't too far from the printer. Otherwise, this model's lack of an automatic duplexer will wear on those who must constantly run to the printer to reinsert documents for two-sided printing. The 250-sheet input tray, 50-sheet multipurpose tray, and 150-sheet output tray are satisfactory given the unit's roughly 2000-sheet recommended monthly cycle. If not, a bottom-mounted, $143, 250-sheet auxiliary paper feeder is available.
The M451nw's speed is middling, and sometimes slower than average. Printing mostly plain, black text and a few simple grayscale graphics on plain paper, it posted below-average rates of 11.7 pages per minute (ppm) on the PC and 10.3 ppm on the Mac. Snapshot-sized photos printed faster than average on plain paper, but slower than average on HP's own photo paper—basically a wash. A full-page photo printed on glossy paper took 80 seconds to print, compared to an average of 60 seconds. A PDF document consisting of several full-color pages was the standout, printing almost twice as fast as the average.
Compared with similarly priced color laser printers, the M451nw's per-page costs are decent. Next to business inkjet printers or inkjet MFPs in the same price range, however, they're exorbitant. The standard black toner cartridge costs $79 and lasts 2200 pages, or 3.6 cents per page. The cyan, magenta, and yellow cartridges cost $114 and last for 2600 pages, or 4.4 cents per page per color. That makes a four-color page cost 16.7 cents, a hair below the average for color lasers. A high-yield black cartridge available for $102 lasts for 4000 pages, reducing black costs to 2.5 cents per page and four-color to 15.6 cents per page. The cartridges that ship with the unit last approximately 1400 pages.
The text the M451nw produces is outstanding–dark and sharp. Color photos are also quite good for a color laser at this price point, though as with most HP printers, human faces have an orange cast. Our full-page photo showed a cool color palette, and nice rendering of fine details.
The M451nw offers an economy mode to save toner. Output in this mode is legible, but only just. If you're going to spend any time perusing the document, or if it's for public consumption, you'll want to print at regular quality.
The HP LaserJet Pro 400 Color M451nw's lack of an automatic duplexer is an issue that you can overcome by opting for the $500 M451dn (no Wi-Fi) or the $550 M451dw (with Wi-Fi and, despite the absence of the letter n in the name, ethernet). Alas, neither of those models can solve the problem of high per-page costs. Consider a high-end business inkjet MFP instead, which could save you a bundle on supplies over time. Alternative lasers in this price range include the Dell 2150cdn and the Brother HL-4570CDW.