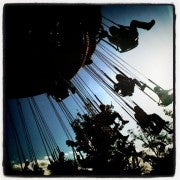 Popular mobile photo-sharing app Instagram announced it now has more than 27 million users on iOS, and is hinting the company plans to release an Android app soon. Instagram co-founder Kevin Systrom showed off a forthcoming Android app, currently in a private beta period, at the music, arts, and tech conference South by Southwest in Austin, TX on Sunday.
Rumblings of an Android version of Instagram, which allows you to easily stylize images, have been circulating for months. But Instagram has yet to make to the jump to mobile platforms other than iOS. But that looks set to change. Systrom didn't specify a release date beyond saying the company hopes to release Instagram for Android "really soon," according to The Verge.
Instagram originally launched in October 2010 and quickly gained popularity as a way to modify and share your photos with your friends and people around the world. Many users also enjoy using Instagram's filters that make your photos look as if they were taken with an old Polaroid instant camera. The new Instagram for Android will feature the usual filters and include sharing integration with other social services such as Tumblr, Twitter, and Facebook.
See Related Slideshow: Instagram Your Photos Without an iPhone
Everybody (on iOS) Loves Instagram
By August 2011, less than a year after its debut, Instagram announced its users had taken and shared 150 million photos with the app. Others are also building features and enhancements based around the popularity of Instagram. A recent Kickstarter project, Instaprint, aims to sell Instagram-centric photo printers for use in the home or at public events. Pricing for Instaprint devices ranges from $400 to $1450. There have also been rumors that Facebook was experimenting with Instagram-like filters to enhance its own mobile photo-sharing features.
Despite Instagram's popularity, the company has so far avoided coming to the Android platform. Instead, numerous competitors and imitators have sprung up trying to fill the Instagram void such as Lightbox Photos, PicPlz, and Vignette. Yahoo's photo-sharing site Flickr has also tried to claim Android photo-sharing fanatics with an app featuring filters and social features. And yet all of these Instagram competitors have met with limited success, meaning Instagram could be as dominant on Android as it is on iOS once it finally launches on Google's mobile OS platform.
Connect with Ian Paul (@ianpaul) on Twitter and Google+, and with Today@PCWorld on Twitter for the latest tech news and analysis.