Smartphone owners prefer to use retail websites, rather than retail apps, when researching products on the fly, comparing prices, finding retail locations, and redeeming coupons, according to a survey released Monday by Nielsen.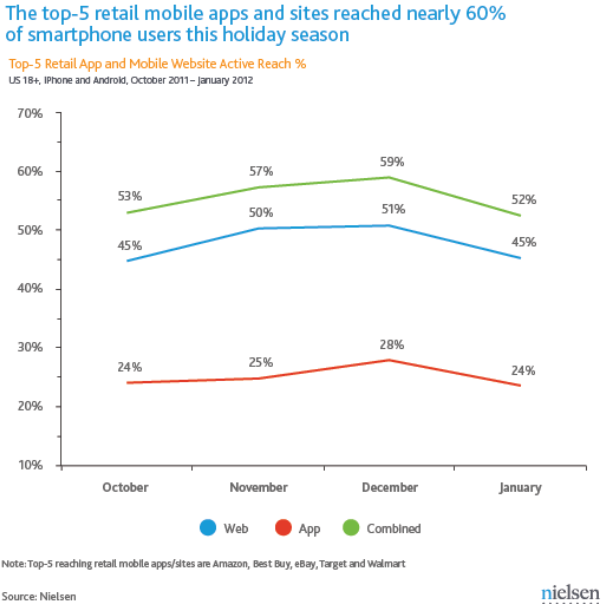 While mobile phone shoppers prefer websites over shopping apps designed by retailers, combining the two creates a powerful way to garner the eyeballs of mobile consumers, Nielsen's study shows. For instance, it revealed that, during the holiday season, the top five retailers –Amazon, Best Buy, eBay, Target and Walmart — through a combination of mobile websites and apps reached nearly 60 percent of smartphone owners.
"Retailers need to think of their business as a multi-channel environment that can potentially include mobile, online, and bricks and mortar stores," John Burbank, Nielsen's president of strategic initiatives, says in a statement. "Winning with shoppers requires a consistent experience across channels that reinforces the values you represent as a retail brand, whether it be price, service, reviews, selection, style or other key attributes."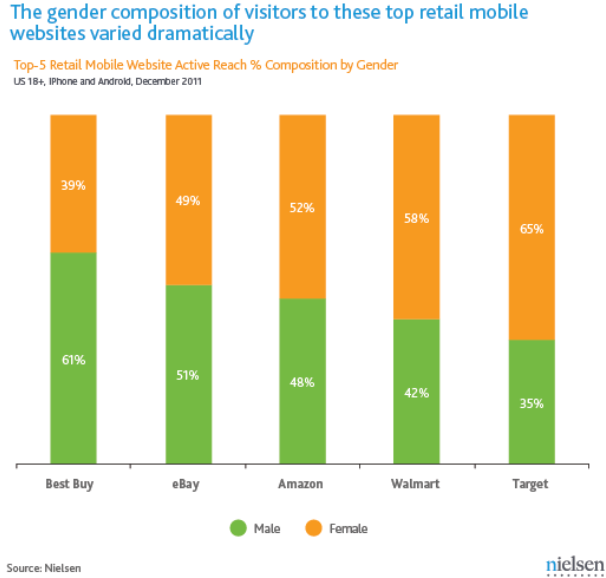 Surveyors also found gender discrepancies among the top websites. For example, Target is more of a magnet for women (65 percent) than men (35 percent), while Best Buy is more of a man cave, with guys outnumbering women 61 percent to 39 percent.
Walmart, too, skewed female (58 percent to 42 percent), while online-only outlets Amazon (52 percent female to 48 percent male) and eBay (49 percent female to 51 percent male) were more evenly divided among the sexes.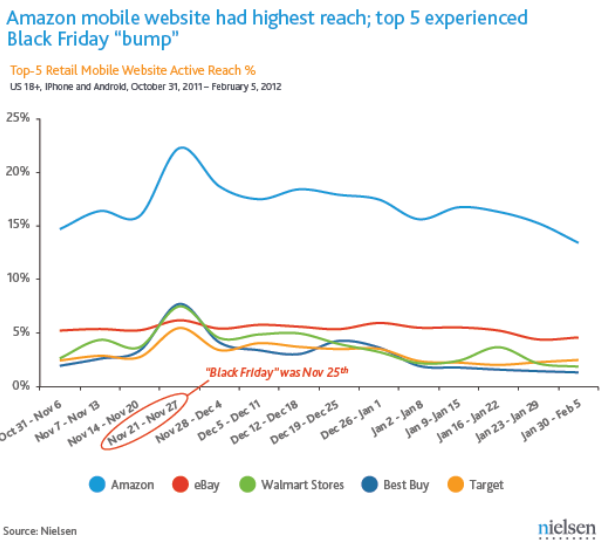 As might be expected, the mobile websites of all the top retailers received a "Black Friday" bump in visits, although at eBay, it was barely noticeable.
The study, which tracked 5000 smartphone consumer volunteers during the holiday period, noted that Amazon's website had the highest active reach of the top five retailers, consistently over 15 percent. The operations of the online-only retailer was followed by eBay, Walmart, Target, and Best Buy.
Follow freelance technology writer John P. Mello Jr. and Today@PCWorld on Twitter.