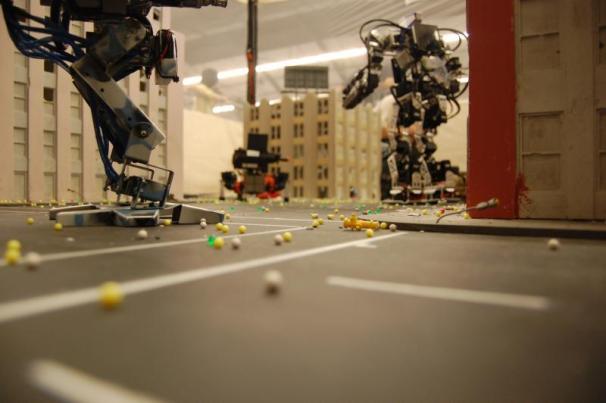 It's not every day that you get to roam around a city as a Mech and absolutely annihilate everything in your path. I've dreamed of watching robots battle robots ever since I was old enough to know what robots were.
It turns out, I'm not the only one who feels this way–a group of hobbyists wants to make this a reality. The group–composed of robotics engineers, students, and other hobbyists–wants to arm Mechs with Nerf guns, micro-rockets, and custom carbon dioxide-powered BB rifles, and place them in a small scale-model urban environment to battle it out for Mech supremacy.
The gang has already held a number of competitions, but like any good geek, they're looking to build a better environment for their more powerful robots. According to its Kickstarter page, the group needs "to build a lexan [and] aluminum armored arena to keep the robots safely confined within the arena, and keep the spectators on the outside safe from stray micro-rockets and BBs. If you've ever seen BattleBots, think of our arena as a smaller-scale version of theirs."
They had me sold at CO2-powered BB rifles and flame throwers. The group needs $6,000 in funding, and they're already sitting at $1,705. I'm not going to lie, I'm a little disappointed in my fellow Internet citizens. Robots. Fire. Mayhem. They should be over the top by now.
Like this? You might also enjoy…
Get more GeekTech: Twitter – Facebook – RSS | Tip us off