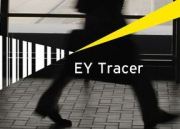 Apparently the news that people don't like having their whereabouts known, tracked, and compiled hasn't reached all corners. Over the past year, Google and Apple have come under governmental scrutiny for collecting users' location information, and the topic was hot last weekend at the South By Southwest confab in Austin, Texas.
That didn't stop tax and consulting firm Ernst & Young from announcing on Monday the release of EY Tracer, an app for iOS, Android and BlackBerry that "tracks current location, home location, and whether time spent abroad has been a work day, travel day, or vacation day," according to a news release. At the same time, the company insists that "no personal identifiable information is transmitted."
The app, which is similar to the firm's existing Traveler Risk and Compliance (TRAC) application, is designed to ensure that businesses comply with corporate tax and immigration rules in more than 100 countries. If that's true that it doesn't track personal information, then how does it ensure that any one employee doesn't overstay their time in a particular country?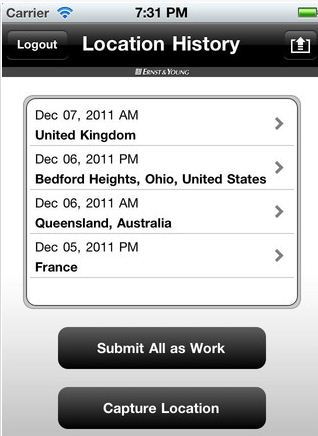 "Multiple visits to the same country in a single year can trigger tax and immigration risks," said Dina Pyron, an Ernst & Young director, in the release. "A combination of our existing traveler risk and compliance services, together with our smartphone technology and Tracer app, will help companies send their people where they need to and stay on the right side of the law."
But even if the app itself doesn't compile personal information, it would be fairly simple for an IT department to correlate the IP address of a smartphone with the location data compiled by the app, and then match it with a specific employee.
From there, watch out. As companies increasingly offer employees the choice of using their own smartphone or tablet for business use, these kinds of questions of personal privacy are only going to come up more frequently.
Were you really working the day you were in Cannes, or were you sunbathing on the beach? What if the data shows that you were spending a little too much time in the environs of your employer's biggest competitor? How much does your boss really need to know about you? Can your location data be subpoenaed in a divorce case?
Employers may have a legitimate legal compliance reason for asking employees to download applications like EY Tracer. But the tracking of this kind of data–no matter whether it's done by individual apps or by the devices themselves–veers into some pretty shadowy areas.