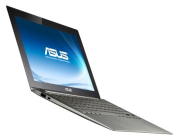 The resolution revolution is coming to Asus' Zenbook Ultrabooks soon, according to a spec sheet shared with The Verge.
The Zenbook UX21A and UX31A–direct replacements for the UX21 and UX31–will sport new Intel Ivy Bridge processors and matte In-Plane Switching (IPS) displays with full HD 1080p resolution. The full HD 1080p displays are part of an upgrade package–the regular display offers 1366 by 768 pixels on the UX21's 11.6-inch screen and 1600 by 900 pixels on the UX31's 13.3-inch screen.
The IPS, or In-Plane Switching, option is a pretty big deal. IPS technology in LCD panels makes for better viewing angles and richer colors. When the original iPad was first unveiled, Steve Jobs made a big deal of the tablet's IPS screen. Wide viewing angles are important for highly portable devices, such as tablets and Ultrabooks. Only a handful of laptops have IPS displays today, most of them business notebooks such as the HP EliteBook 8760w. The new Zenbooks will be the first Ultrabooks to sport IPS displays.
The higher pixel resolution is also a big deal, especially on the 11.6-inch UX21A. Most Ultrabooks, and laptops in general, are still stuck at the 1366 by 768 pixel resolution, but the Zenbooks' higher pixel density means sharper text and less scrolling. Though these full HD displays aren't quite the same as the new iPad's retina display, they do put the Zenbooks ahead of the pack when it comes to other Ultrabooks. The 11.6-inch UX21A with a full HD 1920 by 1080 pixel screen will likely be a strong MacBook Air competitor–depending, of course, on how much the screen upgrade costs.
The refreshed Zenbooks will also offer backlit keyboards and Intel's Wireless Display (WiDi) technology, so users can wirelessly stream high-definition media from their laptops to their HDTVs.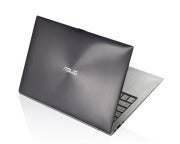 Other specs to look forward to: the full range of Ivy Bridge processors (from Core i3 to Core i5), up to 4GB of RAM, and up to 256GB of SSD storage. According to The Verge, a 512GB SSD option may also be in the works.
The UX21A will probably start around $1050, while the UX31A will probably be slightly higher, at around $1100. The upgraded display will no doubt add considerably to the cost.
There's no word on release date yet, but these sharp-looking Ultrabooks are expected around the same time as other Ivy Bridge laptops start shipping (which, unfortunately, might not be until much later than expected).
Follow Melanie Pinola (@melaniepinola) and Today@PCWorld on Twitter