At a Glance
Expert's Rating
Pros
Excellent mapping feature
Supports mobile phones
Cons
Real-time notifications didn't work
Our Verdict
uKnowKids.com can be expensive, but this service offers plenty of tools for keeping your kids safe.
For any parent, the Internet–and all its related devices–can seem like the lawless wild west. But bringing order to the chaos is a little easier with a service like uKnowKids.com, which monitors your child's social network, mobile phone activity, and GPS location. uKnowKids.com (various pricing, starting at free) delivers a useful overview of your child's online behavior, while also alerting you to problematic activity. uKnowKids.com compares favorably to its competition, which includes SafetyWeb and SocialShield, but does have a few bugs that need to be worked out.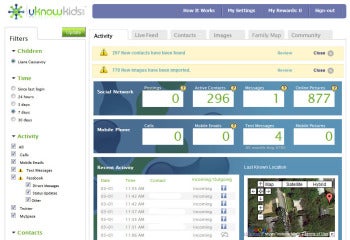 uKnowKids.com is available in four versions: Essential (free), Essential + (free for now), Premier ($9.95 per month), and Premier+ (one-time fee of $49.95, plus $9.95 per month). The Essential version lets you monitor your child's Facebook activity, and includes reports and alerts. The Essential+ version adds mobile phone and text message monitoring (though uKnowKids.com can only monitor activity on Android and BlackBerry phones). The Premier version, which I tested for this review, adds the excellent Family Map feature and online customer support, while Premier+ adds telephone support and a personal helpdesk.
Setting up your uKnowKids.com account is easy, but it does require some cooperation from your child. And that's a good thing, as it should prompt you to discuss online safety with your kids. The Premier version lets you monitor Facebook, MySpace, and Twitter accounts, as well as mobile phone activity on Android and BlackBerry devices. To add a service, you'll need the child's username and password. To add a mobile phone, you'll need the phone number and access to the phone itself, as you have to download and install an application onto the device. Rival SafetyWeb ($10 per month) supports about 60 social networks, but offers only limited mobile phone monitoring, while SocialShield ($10 per month) supports Facebook, Google+, MySpace, Twitter and FormSpring.
Once all of the accounts are linked, uKnowKids goes through and scans their contents, including messages, photos, contacts, and locations. You can access the information via a
neatly-arranged online dashboard, or through email and/or text message alerts that you can have sent to you on a regular basis. By default, the online dashboard displays an overview of your child's activity, including recent incoming and outgoing messages, new contacts, new images, and last known location. If this all-in-one approach is overwhelming, you can use the handy filters to narrow down the information by time, by service, or by type.
uKnowKids.com uses icons to notify you to parental alerts–an easily identifiable exclamation point that draws your attention–but, unfortunately, the service doesn't let you filter the view to see only items with alerts. Rival SocialShield makes it easier to see items that have been tagged with alerts, which allows you to scan quickly if you're pressed for time. uKnowKids.com also doesn't make it as easy as it could be to find the source of those parental alerts: When the service alerted me to troublesome text messages, it took three clicks before I was able to view the actual messages themselves. Still, the information I viewed was more useful than that offered by SafetyWeb, which only allowed me to view the number of texts sent and the hours when the phone is being used. Being able to view the contents of the messages was far more useful.
So, too, is the excellent Family Map feature, which is something I haven't seen on any of uKnowKids.com's competitors. Using Facebook check-ins and GPS information from the monitored cell phone, uKnowKids can track your child's location, and displays the information in a handy map. You can see, at a glance, where your child has been, which can give you immediate peace of mind–or instant cause for concern.
At $10 a month, uKnowKids can get expensive. And it's not without its flaws: It claims to offer real-time notification of questionable activity via text or email, but when I set this up, I failed to receive any notifications other than the daily reports. Overall, though, it offers a comprehensive set of monitoring tools, plus an excellent mapping feature that its competitors lack.
— Liane Cassavoy