At a Glance
Expert's Rating
Pros
Fairly strong performance
Gorgeous screen
Cons
No discrete graphics card
No touchscreen
Our Verdict
If you're looking for a big, beautiful all-in-one that's not a Mac, the HP Omni 27 is a very attractive choice.
Initially the HP Omni 27 took my breath away. Seriously, when I first saw it sitting in the PCWorld Labs, I was absolutely taken by its gorgeous, edge-to-edge glass 27-inch screen. The rest of the design leaves a little to be desired, but this screen is definitely a step in the right direction.
Our review model, priced at $1250 (as of March 14, 2012), is equipped with an Intel Core i5-2400S processor, 8GB of RAM, a 1TB hard drive, and a slot-loading Blu-ray Disc player. The standard options include built-in Wi-Fi connectivity, and an integrated webcam and microphone.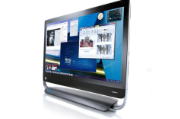 The Omni 27 is a very good performer in its category of big-screen all-in-one PCs. In PCWorld's WorldBench 6 benchmark tests, the Omni 27 earned an impressive score of 140, which puts it right near the top of its class. It didn't quite beat out the $1800 Lenovo IdeaCentre B520, however, which achieved a mark of 156.
Graphics performance is less than impressive, since the Omni 27 doesn't have a discrete graphics card. On our Dirt 3 graphics tests, the Omni 27 managed a paltry frame rate of just 28 frames per second when we dialed it all the way down to a 1024-by-768-pixel resolution, on low quality settings.
The Omni 27's stunning 27-inch screen is surrounded by a thin black bezel. The glass extends over the bezel, giving the machine a seamless and somewhat iMac-inspired look. The speakers, along with an HP logo and the Omni 27 model name, are located below the screen. The entire system sits on a matte-silver easel stand, which tilts easily but restricts screen height.
The screen has a native resolution of 1920 by 1080 pixels. It's attractive–when it's on as well as when it's off. Color representation looks excellent, and images are crisp, but the surface produces a lot of reflection when the brightness isn't turned all the way up. Luckily, the screen is very bright. The only real complaint I have is that it's not a touchscreen, which is pretty much standard for all-in-ones these days. I know that HP can make a great touchscreen, so I'm a little disappointed that this otherwise gorgeous display lacks touch-input support.
At the top of the screen, on the right side, is the power button. The left side of the screen has convenience ports–a multiformat card reader, two USB 3.0 ports, a microphone jack, and a headphone jack enhanced with Beats Audio. The right side of the screen has the slot-loading Blu-ray Disc drive, an HDMI input port, and buttons to cycle through display modes. The rest of the ports–gigabit ethernet, four USB 2.0 ports, audio-out, a subwoofer jack, and a lock slot–are positioned on the back of the system.
The Omni 27 comes with wireless peripherals. The keyboard has flat, Chiclet-style keys, volume controls, and a sleep button, and is slightly curved at the top (instead of having pop-out feet to produce an angle). It's comfortable enough for casual typists, but the keys are a little too small and close together for extended sessions. The mouse, a basic two-button optical device with a scrollwheel, moves smoothly.
Multimedia looks great on the Omni 27–this is definitely an all-in-one that can double as small television. In my testing, Blu-ray playback was excellent, and HD video streaming looked very smooth. The speakers are very loud (another feature that makes this PC a great TV replacement), and they have good bass representation and depth if you turn the Beats Audio feature on. Admittedly, voices sound a little fuzzy at the highest volume.
The HP Omni 27 has a great-looking screen and is a terrific performer. It slacks off a little in some areas–the absence of a discrete graphics card, for instance, is a drawback for people who want to perform graphics-intensive tasks. (And who wouldn't, on such a pretty screen?) The easel stand is also a drawback, since it's not terribly attractive, it doesn't allow you to lower or raise the screen, and it prevents you from storing your keyboard underneath the system. Still, if you're looking for a beautiful, big-screen all-in-one that's not a Mac, the HP Omni 27 is a very appealing choice.