At a Glance
Expert's Rating
Pros
Screen can lie flat
Design stands out
Cons
Screen hinge feels flimsy
Our Verdict
Samsung's first foray into the all-in-one desktop market has some cool features, but it's far from perfect.
The Samsung Series 7 All-in-One is Samsung's first foray into the all-in-one market–and it shows. Although the system is housed in a distinct and striking brushed-aluminum casing, Samsung makes some mistakes that veteran all-in-one manufacturers wouldn't. Still, some design features, such as the screen's ability to lie completely flat, will appeal to many people.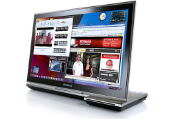 Our review model, priced at $1199 (as of March 14, 2012), packs an Intel Core i5-2390T processor, 8GB of RAM, and a 1TB hard drive. It also features built-in Bluetooth 3.0 and Wi-Fi 802.11n, and runs Windows 7 Home Premium. Unfortunately, the Series 7 doesn't have a discrete graphics card or a Blu-ray Disc player, relying instead on Intel integrated graphics and a simple DVD burner.
The Series 7 performed well for its category in PCWorld's WorldBench 6 benchmark tests, earning a score of 131. That's high enough to put it near the top of our list of the best big-screen all-in-one PCs.
The Series 7 All-in-One's screen sits on a flat, brushed-aluminum base. Its hinged design allows the screen to tilt all the way back, so that you can use the machine as a desktop-style tablet. HP is taking a similar approach with recent entries in its TouchSmart line, but those models rely on an innovative braking mechanism to slide the display along their easel stands.
The Series 7's base is mostly rectangular aside from a large protrusion on the right side, where the slot-loading optical drive is located. Samsung uses that space wisely–placing touch-sensitive buttons and the power button along the edge of the protrusion–but it still looks a little off when the screen is tilted all the way back.
I have a couple of issues with the base. First of all, it might be generous on the screen angle, but it's very restrictive on the height. You have no way to raise the screen, and since the base is so thin, the screen basically ends up sitting on your desk. Secondly, the hinge doesn't feel particularly sturdy. That isn't an issue when you're using the PC in flat mode, but it's a big deal when you're trying to tap on an upright screen and the entire thing is shaking.
The display itself is a glossy, 23-inch touchscreen with a native resolution of 1920 by 1080 pixels. It's bright and it has good color representation, but its touch interface leaves something to be desired. Instead of using capacitive touch, which is what most people are used to (thanks to smartphones), the Series 7's screen uses surface acoustic wave. It's still multitouch, but it needs more pressure than a capacitive touchscreen does.
Ports are located on three sides of the machine's base. The headphone and microphone jacks are on the left, while the right offers an SD Card slot and a USB 3.0 port. On the rear you'll find an HDMI-out port, an ethernet port, three USB 2.0 ports, and an HDMI-in port.
The Series 7 comes with a mouse and a keyboard. The peripherals look cool, but they're fairly basic. The silver keyboard has black Chiclet-style, soft-touch keys, which are a little too soft and a bit too close together to type on accurately. The light-feeling mouse sports a curved design, making it comfortable, smooth, and easy to use. Both peripherals are wireless.
The PC relies on Intel's integrated graphics technology, which delivers decidedly paltry gaming performance: On our Dirt 3 benchmark, it generated only 28.9 frames per second when we dialed down to a resolution of 1024 by 768 and kept the settings low. Needless to say, this isn't a gaming machine.
Video looks good on the Series 7, and audio playback is fine. Bass is lacking, owing to the size of the chassis–the base doesn't have enough room to hold anything substantial–and audio can sound tinny when you crank the volume up. The speakers are suitably loud, though, and sound fine for casual watching and listening.
The Series 7 does come with some nice touchscreen-worthy software, namely Samsung's Touch Launcher application. Touch Launcher is more of a screen makeover than an application, and it transforms the screen into a tablet-style interface to make touch input a little easier. Touch Launcher features a sidebar with weather updates, a clock, and a to-do list, and it provides large, touchable shortcuts to applications.
Samsung's Series 7 is far from perfect, but it does offer some interesting features. The lack of higher-end multimedia options limits its utility, but the interesting design and decent performance come at a fair price.