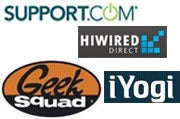 At some point, calling your tech-savvy friends and relatives for help gets old. Or rather, they stop answering the phone, and you're left on your own to figure out why your Wi-Fi doesn't work.
Designed for novices and businesses without access to on-site tech support, a new and growing breed of tech support services are ready to lend a hand. Using remote-control software, these services can troubleshoot your PC while you kick back and finish your latte–provided your Internet connection isn't the problem. And the best part is that you no longer have to cart your computer into a shop or even walk through a fix on the phone.
We put four remote-control tech support services to the test, peppering them with three problems that we (intentionally) created on a test PC, a Samsung Series 7 Chronos laptop running Windows 7. We tested during different times of the day, but always during business hours, one problem per call. To make things tougher, we disabled System Restore, eliminating the option of an easy fix for some of these problems. (Techs are often quick to jump to this fix–after blaming viruses–as a cure-all.)
Click to see the full comparison of remote tech-support services.

The Tests
We designed three tests to mimic common complaints that we've heard over the years.
Test 1: We deleted the driver for our audio subsystem, and told the tech support rep that we couldn't hear anything during Skype calls. (The correct fix: Reinstall the driver.)
Test 2: A simple one: We changed the resolution on our display so that icons and text looked radically stretched out. We said "our kids" had messed up our PC. (The correct fix: Change resolution in the Display control panel.)
Test 3: We deleted the "Users" folder from the Windows Indexing service and said that when we searched, our personal files were no longer showing up in Start Menu search results. (The correct fix: Add the "Users" folder back to the index, then rebuild the index.)
Here's how four remote tech-support operations fared when faced with running our gauntlet of tech problems.
Price: $170/year
iYogi, as the name implies, is an India-based outfit, even offering "Good Karma!" with its automated tune-up system. The website is garish–particularly around Valentine's Day, when floating pink hearts obscure the checkout button–which may give you pause when forking over $170 for a year.
Once you've registered, iYogi directs you to install the iYogi Support Dock, a lengthy, multistep process that eventually gives you a widget that always resides at the top of your screen and includes a button to click for help.
Test 1: In the missing sound test, our support rep arrived to chat after a couple of minutes and asked if we had driver discs for our computer. We didn't (who does?). But he correctly went to the Device Manager to spot the missing devices anyway, reinstalling them there directly. The fix took only a few minutes.
However, the tech ended with a spiel on iYogi's other support options. And we were a little annoyed by a follow-up phone call a half-hour later, attempting to sell us on a second year of support. A second call from the iYogi telephone number came 10 minutes later, but no one was on the line. Rating: 8 (out of 10)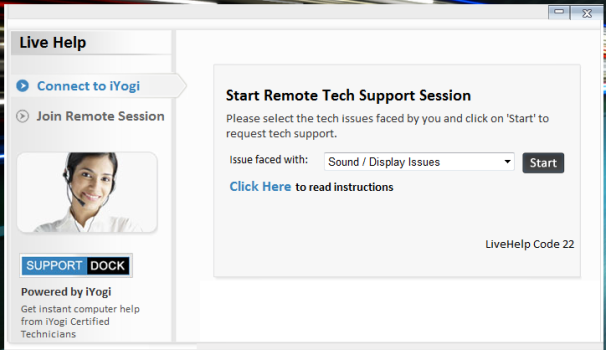 Test 2: We began with a wait of a little under 3 minutes. Fixing the display resolution should have been easy, taking only a few seconds, but our tech rep poked around in the ATI Catalyst control panel and even ran through the ClearType Tuner wizard to try to fix it. And he blew it when he was warned by ClearType that the screen's native resolution wasn't enabled, skipping past it and asking us, in the end, "Are [the icons] okay now?" We said no, and eventually he dug back in, finally correcting the resolution. Total time elapsed on a 30-second fix: 20 minutes. Rating: 4
Test 3: Our indexing issue began ominously with the technician boldly informing us that the Windows Start menu can't find user files. We insisted that this worked on our office PC, and he proceeded to dig into the Start Menu properties. There he enabled the "Search without public folders" option. This doesn't actually add user files to the index, but it did put user files into search results, through a sort of back door. This worked well enough on our test computer, but as we had a much larger user folder than is on most PCs, searching would have been terribly slow. We complained that results were showing up slowly, but the tech considered the case closed and ended the session. Time elapsed: about 10 minutes. Rating: 4
Overall, iYogi's technicians did not appear especially talented at solving Windows issues, but they eventually stumbled upon solutions more often than not.
Final Rating: 5
Price: $89/session or $170/year
UPDATE: Shortly after this article was written and posted, we learned that Radialpoint, the parent company of HiWired, had shuttered the HiWired website and would no longer be offering HiWired Direct service, aside from providing support to legacy customers for the duration of their current contracts. A Radialpoint spokesperson says that the parent company does not plan to offer comparable services itself.
HiWired offers per-session repair services, but for more than one problem, you're better off going with the yearly plan. Unfortunately, HiWired's online checkout system wouldn't let us register over the Web, and we had to give our credit card information over the phone. We were also baffled when a technician said that we couldn't get a receipt. Despite these red flags, we plowed ahead.
HiWired has its own tech support application called PC Check & Connect, but this did not work until our third round with tech support, at which point they fixed their own app. For the first two rounds, HiWired used LogMeIn Rescue sessions to control our PC, after we called in via phone.
Test 1: After a brief hold, the technician went to the Device Manager and saw the missing drivers, but instead of adding them through Windows, he used a browser to go the manufacturer's website to try to download drivers for our machine. He asked what model our PC was and we twiddled our thumbs as he tried to find audio drivers online. Eventually he realized that the standard audio drivers included with Windows just needed to be reinstalled. He spent a long time trying to troubleshoot the PC Check & Connect software to no avail, citing a compatibility problem with Windows 7 and Internet Explorer. A lengthy 40 minutes later, we had sound, but still no support app. Rating: 3
Test 2: Our screen resolution repair went smoothly, with the same rep as the previous day. We spent 3 minutes on hold, yet he immediately saw the problem after launching LogMeIn Rescue, fixing it right away. Rating: 9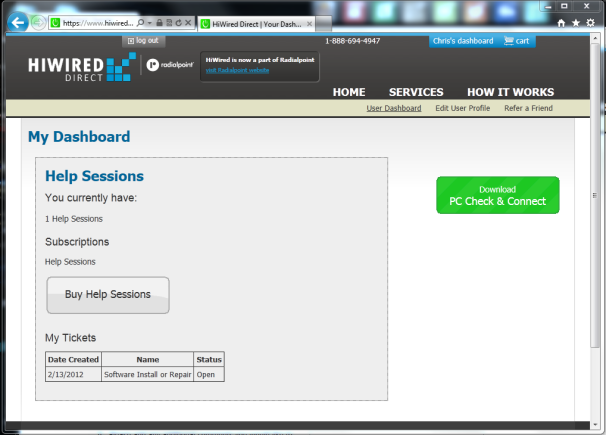 Test 3: This ordeal would have made Sisyphus break down in tears. We were connected via phone to a new technician, who began troubleshooting by creating a dummy text file and verifying the search system couldn't find it. He said it was an indexing problem, but proceeded to check if the Windows Search service was running, confusing the two (related) issues. When this looked okay, he said he would "check the files" over the next few hours, but did nothing for 40 minutes.
He finally opened, then rebuilt, the index, failing to notice that the Users folder wasn't showing up there. We still had no fix, and two hours later we were transferred to another technician. He spent several hours installing and running a battery of antispyware apps and testing the speed of our Internet connection. We didn't have a clue what was going on until hours later, when he declared that "AVG Antivirus was the issue," and that the problem was "fixed." He signed off.
We later learned that the new tech was mistakenly told we had a virus. We reexplained the problem, and the tech said he would run some Windows updates and Check Disk. This would take quite a while, he said, so we left the PC on throughout the evening. Eight hours later, another virus scan was running, which we left going overnight. Come morning, the session had expired and the computer had clearly been abandoned with the antivirus app still on-screen.
We reconnected, getting a third technician with an aggravating penchant for attempting to control our PC while we were explaining our issue in the chat window. She blamed the prior tech for misunderstanding the problem. Her lengthy session ranged from checking running services to editing the Registry (seriously) to downloading Windows hotfixes.
She did eventually update the index, but added the entire C and D drives to it instead of just the Users folder. This created a new problem because the index would clearly take hours to rebuild. When results weren't immediately evident, she restarted the index rebuilding process several times, rebooted into Safe Mode, and ran the Windows System File Checker. Two hours into this session, the problem was finally–mercifully–resolved. Time elapsed: 22 hours. Rating: 1
For the most part, we got the distinct impression that HiWired's technicians had little idea of what they were doing. The final incident alone was horrifying.
Final Rating: 2
Next: Geek Squad, Support.com
Price: $200/year
Best Buy's Geek Squad has been criticized in the past, and this $200/year service sounds pricey at first. But believe it or not, of the services we tried, it's the best remote tech-support operation running, judging from the results of our testing. Unlike most services, Geek Squad doesn't install an application on your PC. Whenever you need support, you visit the Geek Squad website, which initiates a remote session with LogMeIn; LogMeIn is deleted at the end of each call.
Test 1: With our audio problem, we were connected almost immediately to a cordial tech-support rep, and he knew right where to look to find the problem. However, he didn't fix it immediately, instead poking around all over the system (with an odd emphasis on Startup Manager) before going back to the Device Manager and resolving the problem. Total time: about 10 minutes. Rating: 7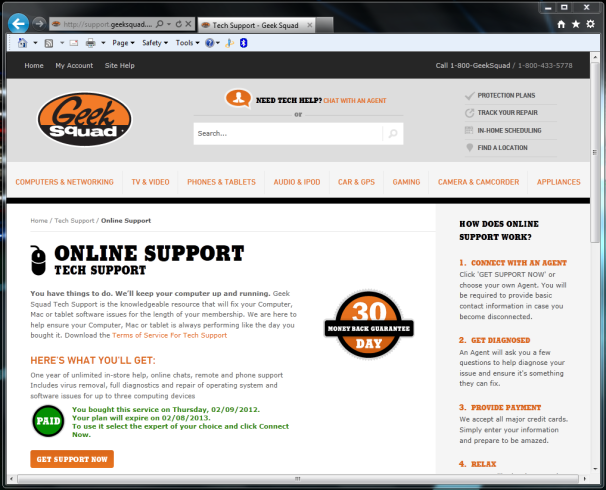 Test 2: We had zero trouble getting our screen resolution issue resolved. The bulk of our three-minute session was spent installing the LogMeIn app. Rating: 10
Test 3: After our one-minute wait, the tech made us grimace by suggesting that our issue was "a common symptom of a virus infection," but before even installing an antimalware app, he fixed the issue. He later said he "misread our question" and that no malware scanning was needed. However, he suggested we add and update Java, Adobe Reader, and Flash, saying that we needed these apps and that they needed to be up-to-date. We declined. Rating: 8
Best Buy's technicians generally knew what they were doing, worked quickly, were professional, and focused on our problems.
Final Rating: 8
Price: $130/session or $20/month plus $40 setup fee
Support.com is costly per session, but for $20 you get unlimited support for a full month. As with HiWired, we were unable to register over the Web. When we called, a (U.S.-based) representative seemingly could understand nothing we said, and once we did get registered, we repeatedly had trouble with our password on Support.com.
Once we finally logged on, we found Support.com's major failing: Hold times that regularly stretch into multiple hours, whether you're waiting on the phone or online for help. And while Support.com's 800 number is plastered all over the place, finding the Web support option is difficult.
Test 1: We waited 90 minutes for a technician to arrive. Unlike with the other three services, he didn't ask before taking control of our desktop. He was otherwise pleasant and professional, and resolved the first issue after 10 minutes, spending additional time installing AVG antivirus (saying antivirus software was a requirement to use the Support.com service), and running a scan. Rating: 7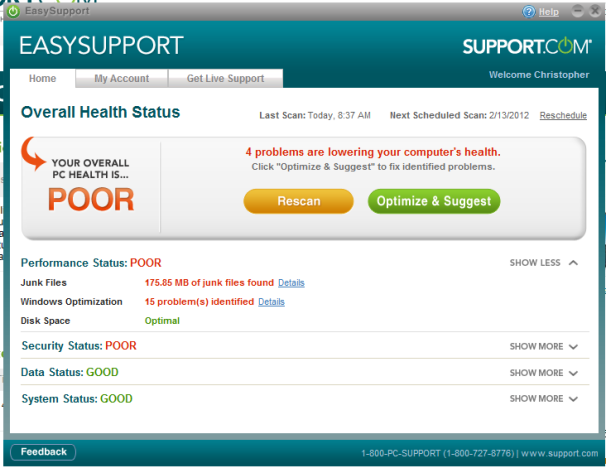 Test 2: The next day, we spent four hours on hold, waiting for a tech. The technician–again, without notice–took control of our system and spent a baffling 45 minutes running antimalware scans before finally just changing the resolution back to the native setting. Rating: 4
Test 3: Our final troubleshooting session began after two hours of waiting (the tech taking control, once again, with no notice), and the technician spent a long time looking for a Windows troubleshooting pack, running an online Microsoft Fix-It tool, and searching for rootkits with an antimalware tool. Support.com uses its own "SolutionToolkit" app to troubleshoot a wide range of problems, but this didn't help the situation, either. The technician finally stumbled upon the solution, adding the entire C drive to the index instead of just the User folder, but this was close enough (and better than most of the competition). Rating: 6
Overall, Support.com did a better job than most in resolving some of the problems, but its multihour hold times won't be acceptable for most users.
Final Rating: 5
Comparing the Services: Summary Chart

Which Service Is Most Likely to Help You?
The quality of remote tech support varied wildly in our tests, even within the same company. While we were pleased with the results more often than not, in several cases the technician solved the problem incompletely, and in at least one case we felt downright violated by the ham-fisted way in which our issue was cluelessly dealt with.
Many remote-control tech-support operations have done away with per-issue pricing, instead preferring a monthly or yearly "all you can eat" plan. Most offer a money-back guarantee; based on many of our experiences, you may want to take advantage of that option.
In the end, iYogi delivered mixed results, Support.com put us through hold-time hell, and HiWired Direct's techs appeared largely incompetent. But Best Buy's Geek Squad offered the best help overall, and is the only one here that we can recommend.