At a Glance
Expert's Rating
Pros
Blu-ray player
Great performance
Cons
Lacks a touchscreen
A little thin on ports
Our Verdict
The HP Omni 220 Quad is a definite improvement over its predecessor: It's quicker, it has a better graphics card, and it includes a Blu-ray player.
HP's Omni line is known for its speediness–the HP Omni 200 Quad is one of the quickest budget all-in-one PCs we've tested–and the HP Omni 220 Quad, which starts at $1000 (as of March 14, 2012), is no different. Actually, it is different: It's even faster than the Omni 200.
Awesome, right? Well, not everything about the Omni 220 is stellar, but maybe you can overlook its flaws because it's such a good performer.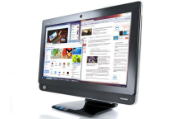 Our review model came packed with an Intel Core i7-2600S processor, 6GB of RAM, and a 1TB hard drive. It also features an AMD Radeon HD 6450 discrete graphics card, built-in Wireless-N networking, and Beats Audio enhancement technology. The system runs the 64-bit version of Windows 7 Home Premium.
No question about it–the Omni 220 is fast. We're talking definite nonbudget speeds: In PCWorld's WorldBench 6 benchmark tests, the Omni 220 earned an impressive score of 147. By contrast, its predecessor, the Omni 200, posted a mark of 132, and even that's speedy.
Graphics performance is also good, especially for the all-in-one category. In our Dirt 2 tests the Omni 220 managed a decent frame rate of 40 frames per second (at 1680-by-1050-pixel resolution and highest settings). Cranked up to 1920 by 1200 pixels, it fell short with a frame rate of just 25 fps. If you're shopping for a gaming machine, you may want to look elsewhere.
Performance stats aside, the Omni 220 is a lot like the Omni 200. Both feature the same cantilever design, which isn't terribly attractive or ugly–it just is. Both sport a 21.5-inch display with a native resolution of 1680 by 1080 pixels (full HD). And both have speakers that work well for music but not for anything else.
For what it's worth, the included Beats Audio software enhances the speaker output considerably (the speakers sound thin and bassless without Beats Audio turned on).That said, the result is not very loud, and audio sounds fuzzy at the highest volume setting.
The Omni 220's screen lacks touch support, and its off-axis viewing angles are pretty dismal. It's also a tad too bright. Usually I'm all for superbright screens, but in this case the colors look washed out. On a positive note, the matte screen produces little glare. The brightness and the lack of glare are great news if you plan on using this PC in bright light or direct sunlight, but since it's an all-in-one and not a laptop, that probably won't be an issue.
On the back of the system, you'll find most of the ports: four USB 2.0 connections, gigabit ethernet, audio-out, and a Kensington lock. A few convenience items–two USB 3.0 ports, separate headphone and microphone jacks, and a multiformat card reader–are on the left side of the screen. The right side of the screen houses the tray-loading Blu-ray Disc player.
Accompanying the Omni 220 are a wired mouse and keyboard, both of which are mediocre. The keyboard is flat, with regular keys, and it's a little stiff for typing. It does have volume control buttons, as well as a red Beats Audio key for turning the Beats Audio speaker enhancement on and off. The optical mouse is a typical two-buttons-with-a-scrollwheel affair. It's light and responsive–a plus, since you have no touchscreen to fall back on.
The HP Omni 220 Quad is faster than its predecessor, and it packs a Blu-ray disc player–we think that's great. The display is a bit less impressive, but if you're looking for a Blu-ray player and an all-in-one that offers great general performance, it's not a bad choice.