At a Glance
Expert's Rating
Cons
Drab interface
Hard to see who wrote the tweet
Our Verdict
Quantum Leap Buzz lets you dig deeper on Twitter to find out what all the buzz is about.
Twitter is a great way to learn a little bit of information about a whole lot of subjects. But if you're looking to dig deeper into a certain subject area, the micro-blogging service can seem overwhelming. Unless you have Quantum Leap Buzz, that is. This application uses "Pattern Based Analytics" to help you identify and analyze trends on Twitter. Quantum Leap Buzz is currently available in a free Consumer Version. The company hopes the free version will introduce folks to the concept of pattern-based analytics, and entice business people to upgrade to the $495 business edition, which will be released in April.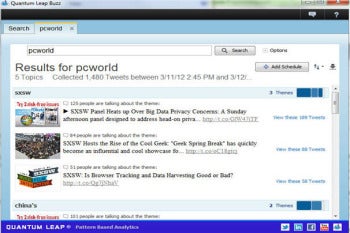 To use the application, you simply enter a search term. Quantum Leap Buzz doesn't point you to trending topics on Twitter, as a service like TwitScoop attempts to do. Instead, Quantum Leap Buzz lets you find out more on the topics that interest you. Once you've entered a search term, the application searches tweets on that keyword and analyzes the patterns there. Results are returned to you organized by topics and subcategorized by themes. For example, a search for "pcworld" returned five topics: sxsw, china's, leads, apps, and google's. Within the "sxsw" topic, Quantum identified three themes: "sxsw concerns", "sxsw hosts", and "sxsw bad."
The topics are arranged by the number of tweets, which gives you an idea of what people actually are discussing most. But the "pcworld" search shows how the content of the tweets can subtly shape the result: the "leads" topic came second because an article with the headline "Google's Trap for Chrome Exploit Writers Leads to Crashes for Users," was tweeted about, and then retweeted many times. That tweet was more about "Google" than "Leads," but Quantum focused on the one word instead of the other. It's one example of why the the results that Quantum Leap Buzz delivers are, on their own, interesting, they're not quite the full story.
I do like that Quantum Leap Buzz now displays the author in its results, something that was missing in an earlier beta. This makes it easy to see who is tweeting, allowing you to gauge whether they are or are not a reputable source.
Quantum's approach may be too much for casual twitter users, but it could be useful for business who are trying to keep tabs on their own customers and products, or those of the competition. And I can see how journalists could find such a tool useful when researching articles or looking for article topics. Quantum Leap Buzz also includes a handful of tools that these folks will appreciate, including the ability to schedule searches and download results into a PDF for later viewing.
— Liane Cassavoy