At a Glance
Expert's Rating
Pros
Generous free plan
Easy to use
Cons
Large memory footprint for desktop client
Our Verdict
Toggl is a simple, cross-platform time tracking solution for individuals and groups.
Tracking time spent and billable hours doesn't have to be difficult, even if you work for multiple clients and not all of your working time is spent in front of a computer. Toggl (free; $5/month plan offers more features)) is a Web-based time tracking system with a downloadable client for Windows, Mac OS X and Linux as well as mobile applications for Android and iOS.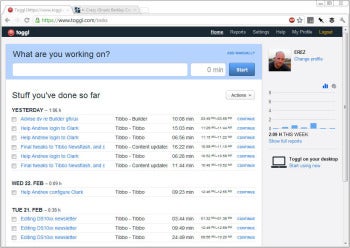 If I had to describe Toggl with a single word, it would be "simple." This is one of the easiest time tracking solutions I've seen to date–even simpler than tracking your time using an Excel sheet. The Web interface features a large text box captioned "What are you working on?" similar to the one used on work log service IDidWork. You can just type in whatever you are doing, and hit Enter to start tracking. A counter appears (accurate down to the second), the Start button transforms into a Stop button, and that's all there is to it.
If you're working with multiple clients and projects, you can also specify a client and a project. You can also tag the task, which is useful for tracking the same type of task across multiple clients and projects (like tracking all design-related tasks, versus coding-related tasks). And if you've already started working on a task some time ago but forgot to start tracking it, you can edit the start time even while the timer is counting, and the duration will update on the fly. You can also add tasks without using the timer, by simply noting their start and end times.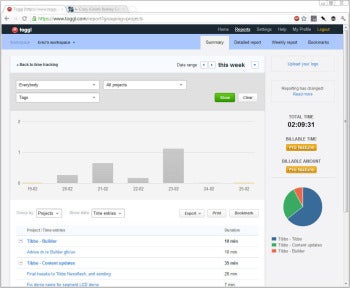 Toggl's desktop client is available for everyone, even if you use the free version of the service. At 24MB, it is a large download: That's because it is actually a version of the Chrome browser. Chrome uses multiple processes for stability, and when you run Toggl's desktop client it, indeed, spawns two processes. Killing one of these exposes Chrome's "Aw, Snap!" error page within the client, showing its innards. The only disadvantage to it being an instance of Chrome is that it is a large download with a large memory footprint (23MB in RAM on my system). If you're already using Chrome as a Web browser, worry not: The desktop client doesn't conflict in any way.
In terms of functionality, the desktop client looks like a simple iPhone app, and works well. You can track new tasks, create new projects and clients, and edit past tasks, but when the time comes to generate reports you'll still need the Toggl website.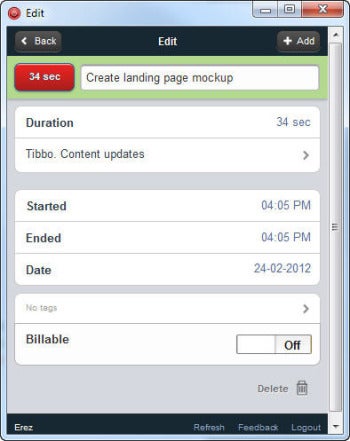 Toggl offers three types of reports: Summary, Detailed, and Weekly. The Summary and Detailed report can be produced for any time span, while the Weekly report can be produced for any single week. Reports show where your time went, and can be filtered by user, project, and tag. Reports can be exported as CSV or PDF files, and are easy to understand. The Summary and Detailed reports include a daily bar graph showing how long you've worked each day, and the Summary report also features a handsome pie chart showing at a glance what projects took up your time. Toggl can also be used in a team scenario (the free plan supports up to five users per team), and reports can show how each member of the team is using their time.
Toggl's free version offers a generous subset of features. The paid version adds support for teams larger than five people, tracking billable vs. non-billable hours, different billing rates for different projects, Quickbooks and Basecamp integration, and more.
I found the free version of Toggl more than enough for my needs, but at $5 per user per month, the paid version is very affordable too.
Note: The Downloads button takes you to the vendor's site, where you can download the latest version of the software.
–Erez Zukerman