CanvasPop, which boasts that it can turn low-resolution images into quality canvas prints as large as two by six feet in size, announced this week that it's making it easier than ever for Facebook shutter buffs to use its online service.

By plugging into Facebook's API, Facebook members can snatch their photos from the social network and drag them into CanvasPop's website. Formerly, the members would have to download the photos from Facebook and upload them again to CanvasPop.
Integration with Facebook has another advantage for CanvasPop. It allows its customers to create gifts for friends from their photos on the social network, provided you have permission to look at the friend's photo or you're "tagged" in it.
About 20 percent of CanvasPop's traffic already comes from Facebook, CanvasPop spokesperson Suzy Kendrick explained to PCWorld. With its new integration with the social network, the service hopes to further exploit the explosion of image posting that Facebook has experienced. According to Pixable, maker of a photo plug-in for Facebook, images are being uploaded to the site at a clip of six billion a month. Last month, it estimated that the number of pix on Facebook hit the 60 billion mark.

Many of those images are inferior in quality, often snapped with low-resolution cellphone cameras. That doesn't matter, according to CanvasPop, which claims its "unique filtering process" will make any image "pop" as a canvas print of any size.
"From the beginning, CanvasPop has focused on printing low-resolution images, the type of pictures other companies either wouldn't print or failed to print well," CanvasPop co-founder Adrian Salamunovic tells PCWorld.
"We developed our PicturePerfect technology specifically to address this need," he adds.
CanvasPop is understandably keeping the workings of the technology it uses to turn inferior photos into superior ones under tight wraps. Asked to explain the process, Salamunovic would only say, "Through a process called micro-vectorization, combined with specially designed filters, we are able to turn pixels into vectors that can be enlarged to any size without losing picture quality."
It also helps that the prints are made on canvas and not paper. "Canvas, as a medium, is a very forgiving medium, especially to pixelization," Kendrick notes.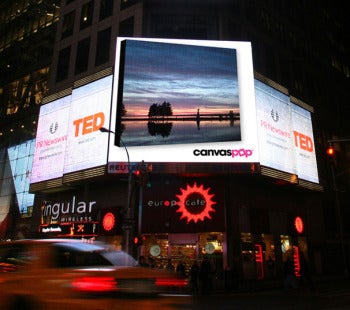 In addition to its unique resolution filter, CanvasPop lets you reproduce your photos using conventional filters such as black and white, sepia, Lomo, spot color, oil painting, comic book, and pop art.
Pricesfor CanvasPop art ranges from $30 for an 8-by-10-inch, unframed print to $419 for a 24-by-72-inch print in a wood frame.
Prints may cost more from CanvasPop than from its competitors in the canvas print market, but the company thinks the extra money is worth it. Not only do you get its digital photo optimization technology, but you get customized service, too.
"We have trained designers that look at every image," Kendrick explains. "It's not just 'print my image on canvas.' You're getting a design service with it as well, someone helping you through the process."
During the initial launch period on Facebook, CanvasPop will be awarding daily a free 16-by-20-inch print to people who tell their friends on the social network about the service.
In addition, members who use the code FACEBOOK20 will receive 20 percent off their prints for a limited time.
Of course, you don't have to be a Facebook member to use CanvasPop. You can upload and order canvas prints directly from its website, too.
Follow freelance technology writer John P. Mello Jr. and Today@PCWorld on Twitter.