At a Glance
Expert's Rating
Pros
Lets you watch online video offline
Plenty of video sources
Cons
Can't watch video as it records
Our Verdict
Watch your favorite shows and videos whenever you want with PlayLater.
What do you get if you cross Hulu with TiVo? This may sound like the start of a joke, but the answer is PlayLater, an online DVR that's definitely not a punch line. At $40 per year (currently discounted to $20 per year), it's certainly cheaper than a cable package.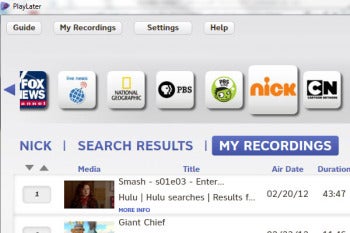 PlayLater is the latest application from MediaMall Technologies, the company behind PlayOn, a piece of software that lets you place-shift online video. With PlayOn, you can watch video from Hulu, Netflix, or several other sources, on devices such as the iPhone, iPad, Wii, Roku, and more. Where PlayOn focuses on place-shifting, PlayLater is all about time shifting: This handy PC-focused application lets you record online video for watching later. PCWorld last reviewed PlayLater when in was in beta.
When you launch PlayLater on your Windows PC, it displays its Guide screen, which shows you all of the online video sources you can use. PlayLater has access to all of PlayOn's video sources, which include Amazon Video on Demand, CBS, Nick, PBS Kids, TBS, and more, in addition to the already-mentioned Hulu and Netflix. From the Guide, you can select a video source or channel, and then browse through or search for available shows. PlayLater is neatly laid out and makes it a cinch to find the shows you want. Once you locate the show you'd like to record, you can click it to initiate the recording. You can initiate recordings from within the PlayLater app only; you cannot go to a third-party video site and request to record a video from there. The folks at PlayLater say this capability may be added in the future, in the form of a toolbar you install.
And then PlayLater goes to work in the background. The application fires up its own browser window, which is invisible to you, and plays the requested video, capturing it as it plays. The video in question is not actually downloaded, but recorded and saved as an encrypted video file. Recording a video takes exactly as long as it does to play it, and the recording captures the entire video as it would play in browser, any ads included.
You can only record one video at a time, but you can queue up multiple videos to record in succession. The company says it may lift this restriction in the future, but notes that the video recording process can be taxing on your system, so you may not want to record multiple videos at once, anyway. I noticed no performance issues on my two-year-old Windows 7 PC when testing PlayLater.
You cannot watch the video while it is recording, and you can't start the playback until the recording is complete. PlayLater doesn't play back the video in its own application, but instead does so in Windows Media Player. The company says the decision to use Windows Media Player instead of a custom-built player was made because the application is Windows-only, and every Windows PC comes with the software installed.
I'm not typically a fan of Windows Media Player–I prefer the excellent VLC media player–but it didn't bother me when using PlayLater. Maybe I was so excited about the fact that I could amass my own offline-accessible library of online shows. I don't have to worry about Hulu pushing my favorite episodes out for newer ones, and as long as I have a PlayLater subscription, I don't have to stress when I want to watch online videos when I'm traveling and without an Internet connection. PlayLater has solved all of these problems by creating the software application I had no idea I always wanted.
Note: The Download button takes you to the vendor's site, where you can download the latest version of the software.
— Liane Cassavoy