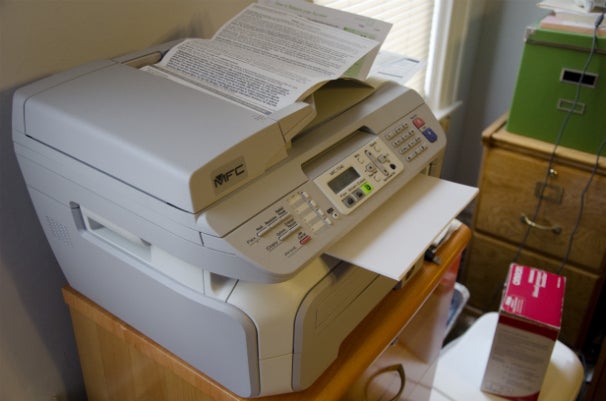 We've already got laser printers that bake up fresh sheets of inked paper in seconds. Now, the University of Cambridge is hard at work developing a laser "unprinter" that literally vaporizes toner without damaging the paper it's printed on.
Cambridge researchers of the Low Carbon Materials Processing Group have discovered that they can use lasers to directly heat up the laser printer toner on paper and remove it. The process doesn't inflict much damage upon the underlying cellulose fibers in the paper, leaving you with a reusable sheet without have to go though the whole recycling process.
The researchers tested a series of 10 laser setups with the aid of The Bavarian Laser Centre. Of all the varying laser intensities, duration and wavelengths, the scientist settled on using nanoseconds-long pulses of green light.
In their experiment the researchers used standard Canon copy paper with HP LaserJet black toner. The dark toner readily absobed the green-colored laser, but the laser light passed though the cellulose fibers in the paper, unabsorbed.
The goal of the unprinting research is to develop a better way to reuse paper. Recycling is good for reducing our reliance on logging, but the process itself still uses electricity and fresh water, and products carbon dioxide emissions. Ultimately, the scientists hope that this way of stripping toner from paper will somewhat reduce the need to recycle or even to produce new paper.
The scientists say that unprinters could be coming to offices and homes soon, given the advancements of hand-held scanning technology, wireless devices, shredders, copiers and printers.
"What we need to do now is find someone to build a prototype," Dr Julian Allwood, Leader of the Low Carbon Materials Processing Group at the University of Cambridge, said in a release. "Thanks to hand-held scanners and laser-jet printers, the feasibility for reusing paper in the office is there."
I would love to have a laser de-inking machine of any kind just to turn all of my junk snail-mail into a pile of reusable paper.
Would you unprint paper? Leave a comment.
Like this? You might also enjoy…
Get more GeekTech: Twitter – Facebook – RSS | Tip us off