New regulations requiring China's Twitter-like microblogging sites to only allow posts from verified users have been met with reluctance from some of the nation's Internet users as the rules went into effect on Friday.
Beijing's city government announced the regulations last year, as a way to protect users and eliminate rumors on the sites. But the rules were also part of a larger effort by authorities to control the country's burgeoning social networking sites, which have often become forums to criticize the government.
One of China's largest microblogging sites, operated by Sina, has enforced Beijing's regulations by requiring new users provide state-issued ID numbers to register for an account. But as of late afternoon Friday, local time, existing users with unverified accounts on Sina's platform reported still being able to publish posts.
How long that will last is unclear. But if fully implemented, the rules have the potential to silence a large number of China's microbloggers. In the case of Sina, the company has more than 300 million registered user accounts.
Sina spokesman Liu Qi said earlier this week the company estimates 60 percent of its existing users will be verified by March 16. Sina, however, did not respond for comment on how the regulations would affect the accounts of unverified users.
China's other major microblogging site, operated by Tencent, has 373 million registered users. The company has also been following a real-name registration policy set forth by China's Guangdong province, but it only applies to new users. Tencent expects the policy will be extended to existing users in the future, said company spokeswoman Jane Yip.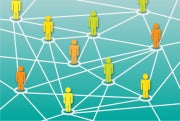 China is infamous for the strict control it exerts over the Internet, going as far to block Facebook and Twitter and even detain users for fabricating rumors on the Internet. Analysts, however, expect over the long-term that Chinese users will get used to the new registration requirements, given that most people use the nation's microblogging sites mainly for entertainment purposes.
Beijing resident Qiu Yun opposes the new requirements, but said she will continue using her account with Sina. "After the real name registration goes into effect, I will be cautious about sensitive topics and radical opinions," she said. "Most people just write about their lives. They don't question, or at least don't criticize politics."
Shenzhen resident Liu Qunying said she plans to continue using her unverified account on Tencent, and would rather not provide her state-issued ID to the company. But if forced, she would probably decide to register with her real name in order to stay connected with her friends on the site.
"Ultimately, I feel the real name registration doesn't allow for enough privacy," she said.