Apple packs a much larger battery into the new iPad, which becomes available for general sale today, in order to juice the tablet for up to ten hours of use, even with 4G LTE connectivity. iFixit took apart the new iPad , which is vastly improved on the inside, but looks almost identical to the iPad 2 on the outside.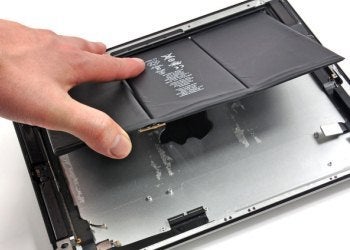 The latest 4G LTE connectivity chips are well known for sucking up battery life faster than you can download an app, but this wouldn't fly with the iPad, which Apple touts as offering some ten hours of battery life — and an aspect competitors found hard to match. The third-generation iPad makes no exception to the ten-hour rule, even with 4G, and Apple's secret recipe for this was torn apart by the iFixit crew.
The new iPad has a 42.5-watt-hour battery, compared to the 25-watt-hour Lithium-Ion battery found in the iPad 2. Inside, the new iPad is basically a giant battery, with the electronics neatly arranged around the side. The bigger battery is 3.7 volts and carries an estimated ten hours of use (nine on a cellular data network), which is comparable to that of the iPad 2. The extra 17.5 watt-hours are used to power the extra RAM (1GB) and the improved graphics chip.
The bigger battery and high-resolution Retina display have taken a toll on the thickness and weight of the new iPad though, which is 0.6mm thicker than the iPad 2 (reviewers said it's unnoticeable) and 50 grams heavier. Chris Foresman at ArsTechnica calculates Apple increased the battery capacity by 70 percent with the new iPad, but the tablet is also 70 percent larger.
iFixit makes other notable findings from its teardown of the new iPad. The A5X 1GHz dual-core processor with quad-core graphics, which Apple claims outperforms Nvidia's Tegra 3 processor, is manufactured by Samsung, while the 3G and 4G wireless chips come from Qualcomm.
Follow _Daniel Ionescu and Today @ PCWorld on Twitter.