MegaUpload.com isn't going back online anytime soon, but the founder of the file-sharing site that was shuttered in January may get his computers, documents, and trove of vehicles back.
New Zealand authorities have admitted to making a procedural mistake before seizing Kim Dotcom's possessions. Now, officials may have to return them.
While the mess gets sorted out, the outspoken Dotcom isn't keeping quiet. In a television interview recorded at his mansion where he is on house arrest, a calm and well-spoken Dotcom insists he and his site are protected from liability for the actions of their users.
"We have been sued only once, never by any, you know, movie company or big content company and we have spent millions of dollars on legal advice over the last few years and our legal advisors have always told us that we are secure," he says on the video.
Dotcom also talks of the genesis of MegaUpload, the viral growth of the company, his wealth, and the mechanism that allowed content providers to remove from the site copyright-infringing links. He said, in fact, that members of the Motion Picture Association of America have removed over 15 million such links.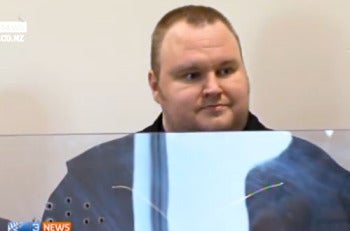 He also makes the point PCWorld raised several weeks ago: Piracy would be less of a problem if Hollywood had a better distribution model for its movies. The way it works today, movie trailers are promoted all over the world even though films are first released only in select countries.
"If the business model would be one where everyone has access to this content at the same time, you know, you wouldn't have a piracy problem," Dotcom says. "So it's really, in my opinion, the government of the United States protecting an outdated monopolist business model that doesn't work anymore in the age of the Internet and that's what it all boils down to."
He adds, "I'm no piracy king. I offered online storage and bandwidth to users, and that's it."
After he was dramatically taken to jail in cuffs, authorities confiscated his computers, documents and about 20 vehicles.
Because of the procedural snafu, a judge will have to rule on whether Dotcom's property should be returned to him. To make that happen, Dotcom's attorneys will have to prove authorities demonstrated a lack of good faith.
Here's the video interview.