Hackers claimed to have figured out a way to bypass Apple's technical restrictions and install unauthorized applications on the company's latest iPad upon its release last Friday.
Apple forbids installing applications it has not approved, but hackers have found ways to "jailbreak" devices, or modify the code to allow unauthorized programs from alternative application stores such as Cydia.
There are three different methods to jailbreak the latest Apple iOS 5.1 software, and videos and screenshots posted over the weekend showed the hacks, according to the Dev-Team, which developed the first jailbreak tool.
Stefan Esser, who goes by the Twitter screen name "@i0n1c" posted a video on Friday of the latest iPad after it had been successfully jailbroken. Also on Friday, "@musclenerd" posted screenshots of a new, jailbroken iPad.
Another hacking team, Paul Griffen (@phoenixdev) and Grant Paul (@chpwn), posted screenshots of their hacked third-generation iPads.
In January, the tool Absinthe A5 was released, which could jailbreak both the iPhone 4S and iPad running software versions just before iOS 5.1. It took about 10 months to develop due to the difficulty the hacking group GreenPois0n found in trying to find a way to exploit the A5 processor.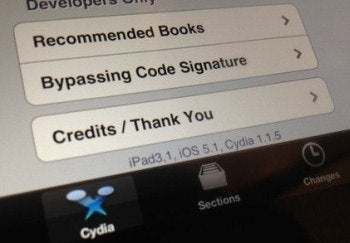 While jailbreaking an Apple device is legal, the company discourages the practice. If technicians at Apple's store detect a device has been jailbroken, they will refuse to work on it, saying the tampering voids the warranty.
Send news tips and comments to jeremy_kirk@idg.com