After years of being chased by governments on land, The Pirate Bay is considering putting proxy servers in the sky.
No, really.
The Pirate Bay's MrSpock writes in a Pirate Bay blog post that the popular BitTorrent site will experiment with small airborne drones that will redirect user traffic to a secret location. The drones will use cheap radio equipment and small computers (such as Raspberry Pi), and will be controlled by GPS.
"This way our machines will have to be shut down with aeroplanes in order to shut down the system. A real act of war," MrSpock writes.
The Pirate Bay figures that modern radio transmitters can transfer more than 100Mbps at over 50 kilometers away, which will be more than enough for a proxy system. "We're just starting so we haven't figured everything out yet. But we can't limit ourselves to hosting things just on land anymore," the blog post says.
The announcement has drawn some skepticism from the hacker community. As one commenter at Hacker News notes, broadcasting from the sky would likely violate existing laws in many countries–including zoning laws if the drones are tethered to the ground–so they'd still be subject to legal challenges.
However, The Pirate Bay tells Torrentfreak that the first drone will probably fly above international waters. For good measure, The Pirate Bay reiterated to TorrentFreak that its plan to launch airborne server drones is real.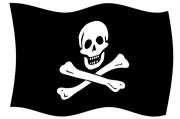 In any case, The Pirate Bay has good reason to go on the run. Last month, the site switched its top-level domain, possibly to avoid seizure by U.S. authorities. Last October, the site set up a new domain to get around ISP blocking in Belgium. And in 2010, The Pirate Bay suffered some temporary downtime when a court injunction in Germany pressured the site's bandwidth provider to bail out.
If The Pirate Bay manages to pull off its high-flying server stunt, it's sure to frustrate the entertainment industry, which has been trying for years to thwart the site. Although The Pirate Bay's founders now face prison time and steep fines for violating Swedish copyright laws, the site continues to thrive. According to TorrentFreak, The Pirate Bay is the most popular BitTorrent site on the Internet, with close to 2 billion page views per month.
Follow Jared on Twitter, Facebook or Google+ for even more tech news and commentary.