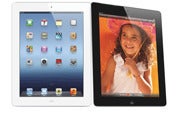 Apple sold three million new iPads over the weekend, the company announced Monday.
"The new iPad is a blockbuster with three million sold–the strongest iPad launch yet," Apple's Senior VP of Worldwide Marketing, Philip Schiller, said in a statement.
According to one report, the iPad 2 sold one million units during its first weekend on the market.
Schiller's statement confirms Apple CEO Tim Cook's earlier promise of record numbers for the new iPad. "We had a record weekend, and we are thrilled with it," Cook said in a conference call.
Three million is a reasonable run for the first weekend says Rob Enderle, president and principal analyst at the Enderle Group in San Jose, Calif.
"There really isn't any bad news in the first weekend," Enderle told PCWorld. "Now we get to see if they have sustaining demand."
The new iPad went on sale March 16 in the United States, Australia, Canada, France, Germany, Hong Kong, Japan, Puerto Rico, Singapore, Switzerland, United Kingdom, and the U.S. Virgin Islands.
"Customers are loving the incredible new features of iPad, including the stunning Retina display, and we can't wait to get it into the hands of even more customers around the world this Friday," Schiller said.
The new iPad will be available in an additional 25 countries this Friday: Austria, Belgium, Bulgaria, the Czech Republic, Denmark, Finland, Greece, Hungary, Iceland, Ireland, Italy, Liechtenstein, Luxembourg, Macau, Mexico, the Netherlands, New Zealand, Norway, Poland, Portugal, Romania, Slovakia, Slovenia, Spain, and Sweden.
Follow freelance technology writer John P. Mello Jr. and Today@PCWorld on Twitter.