At a Glance
Expert's Rating
Pros
Good performance
Sturdy construction
Cons
Keyboard has little extra functionality
Our Verdict
The TouchSmart 7320 is functional, and performance is decent. But it fails to stand out.
The HP TouchSmart 7320 is a bog-standard budget all-in-one PC. It's inexpensive, and performance is fine, but it ultimately fails to stand out in a crowded market. The model we tested, priced at $879, packs an Intel Core i5-2400S processor, 4GB of RAM, and a 500GB hard drive. It also offers built-in Wi-Fi connectivity, and a 21.5-inch touchscreen.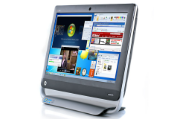 On PCWorld's WorldBench 6 benchmark tests, the TouchSmart 7320 scored a decent 126. This score doesn't put the system at the top of the list, but it's well above average for our budget all-in-one PC category.
The TouchSmart 7320 relies on integrated graphics, which leaves gaming out of the question. On our Unreal Tournament 3 gaming test — the least strenuous test we offer — the 7320 managed a frame rate of just 14.3 frames per second (1680-by-1050-pixel resolution, highest quality settings). By contrast, budget all-in-one PCs with discrete graphics cards generally score over 40 fps on the same test.
The TouchSmart 7320 features an easel-like design: the screen is supported on the sides, rather than off of a single arm, and the entire unit tilts easily back and forth. I'm not a huge fan of easel designs, but HP's are sturdy and comfortable to use.
The 22-inch touchscreen is glossy — a bit too glossy. It's also too dim, with no quick way to adjust brightness via the keyboard or buttons on the monitor. The display has an overall bluish cast, and off-axis viewing angles are dismal. The touch capability of the screen also feels off. It's not very responsive, and I felt like I had to push harder than anticipated to get around. All told, I wasn't impressed — and the screen is the most important aspect of an all-in-one PC.
Most of the 7320's ports are on the back of the machine, in the lower left corner. These include four USB2.0 ports, gigabit ethernet, a lock slot, and an audio out jack. On the left side of the screen are two USB 3.0 ports, headphone and microphone jacks, and a multiformat memory card reader. The right side has a slot-loading DVD burner.
The 7320 comes with basic wireless peripherals: a flat keyboard and a shiny two-button mouse. Both are comfortable and easy to use, and the keyboard offers volume-control buttons.
Video and audio playback aren't bad. High-definition content was relatively stutter-free, though we saw some artifacting in darker and more action-packed scenes. Audio is bolstered by HP's Beats Audio technology. The speakers are loud, though dialogue and voices are sometimes a little muffled. The TouchSmart 7320 is outfitted with the standard HP fare, including the HP TouchSmart suite and some webcam tools.
As a budget all-in-one, the TouchSmart 7320 has all the right boxes ticked off — middle-of-the-road performance, HP's Beats audio, and a touchscreen — but it includes nothing really impressive. You can do better: HP's Omni 220 costs a bit more and lacks a touchscreen, but it delivers performance in spades. If you're looking for something a bit more interesting, take a gander at our big-screen all-in-ones list.