I've made no secret of my distaste for Facebook's interface, which is equal parts messy, confusing, and outright maddening. For example, suppose you want to change your profile photo. This is yet another of Facebook's ridiculously obscure settings that's actually hiding in plain sight. (Previous offender: location sharing.)
It seems like the kind of option you might find in, say, Account Settings. Nope, not there. Privacy Settings? Nuh-uh.
Well, maybe if you click your name to open your profile, you'll find the option there. Let's see… no, there's nothing that says "change profile photo." Oh, here we go, I'll bet if you click Update Info…
Another strike. What's that, now, four?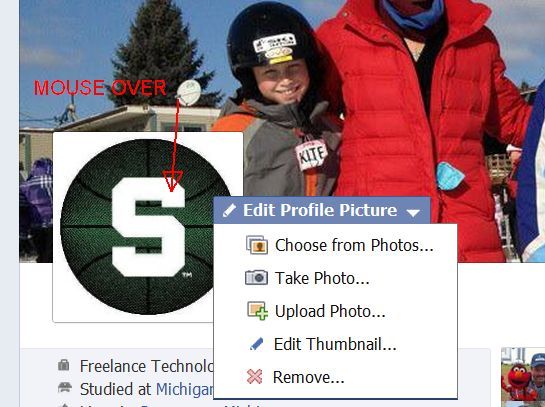 Hard to believe, but to change your profile photo you need to open your profile by clicking your name, either on the left side (below the Facebook logo) or the right edge of the toolbar up top. Then mouse over your current photo picture, click Edit Profile Picture, and choose an option from the drop-down menu that appears (Choose From Photos, Upload Photo, Edit Thumbnail, etc.).
That's right! All this time, the option was right there–provided you hovered your mouse in the right spot. Come on, Facebook, you can do better. (Quick note: If you happen to install one of the Facebook-photo-zoom tools I mention below, you may find that the pop-up image obscures the Edit Profile Picture tool. Bleh.)
There is, admittedly, another way to go about this. If you want to turn a photo that's already in your Facebook library into your profile picture, you can–but, again, finding the option can be maddening unless you know where to look. You need to find the photo you want, then click it to bring up the full-size version in its own window. Now, see that tiny gear icon in the upper-right corner? Click it, and then choose Make Profile Picture. Why there's not a button for this alongside Tag Photo or Add Location is beyond me.
Zoom Facebook Photos Just by Mousing Over Them
Don't get me wrong–I like Facebook a lot, but certain aspects of the service can be annoying.
For example, when you're perusing your news feed, you might see a photo that's of interest–but too small to see in sufficient detail. So you click to make it larger, than have to click again to close it.
Hey, you don't have all day! And don't get me started on all that extra wear and tear on your mouse.
Fortunately, there's a way to enlarge Facebook photos without a single click. All you need is the right extension for your Web browser: FB Photo Zoom for Chrome and Thumbnail Zoom for Firefox. Once installed, you'll discover a much easier way to interact with Facebook photos: just mouse over them. In other words, move your cursor on top of any photo in your news feed, then wait a second. Presto: the image appears full-size.
If you're a Firefox user, you'll be glad to know that Thumbnail Zoom also works with Amazon, Twitter, and loads of other sites that use thumbnail images. (Alas, Craigslist isn't one of them; for that, check out CraigsList Image Prefetcher.)
I've been using FB Photo Zoom in Chrome–and loving it. It's definitely worth a look if you're a Facebook fan.
If you've got a hassle that needs solving, send it my way. I can't promise a response, but I'll definitely read every e-mail I get–and do my best to address at least some of them in the PCWorld Hassle-Free PC blog. My 411: hasslefree@pcworld.com. You can also sign up to have the Hassle-Free PC newsletter e-mailed to you each week.